SETU and WWETB partner in creating new course
SETU and WWETB partner in creating a Certificate in Manufacturing and Design Engineering programme
Minister of State at the Department of Justice, James Browne TD recently visited Waterford and Wexford Education and Training Board's (WWETB) FabLab in Enniscorthy, Co Wexford to congratulate the first cohort of successful students who completed the Certificate in Manufacturing and Design Engineering programme. Members of South East Technological University's (SETU) Faculty of Engineering and representatives from a number of well-known engineering companies in the south east were also in attendance.
The certificate is a collaborative programme created by SETU's Faculty of Engineering in Carlow and WWETB to upskill employees for local industry in technical areas such as computer-aided design, CNC programming and 3D printing. The visit marked a significant moment for the partnership in recognising the achievement of the first students to complete the course, the importance of continued upskilling for the ongoing development of the region and the value of collaboration between Further Education and Training (FET) and Higher Education Institutions (HEIs).
Minister of State James Browne spoke at the event and praised the commitment of both employees and employers. Mr Browne also highlighted the value of engineering companies to the south east region. He said, "I want to commend the first class of students who have successfully completed SETU Carlow and WWETB's level six certificate in Manufacturing and Design Engineering. This is a really positive initiative where our south-east third level educators have collaborated to upskill some hard-working employees in technical areas. It is exciting to see how Wexford and the south-east can strengthen its reputation as a region with a workforce that is constantly upskilling to gather expertise in the latest manufacturing process. I want to commend the graduates, local employers, WWETB and SETU Carlow for their work in bringing this programme to fruition and I hope that a further intake of students early in the New Year will serve as a further success story."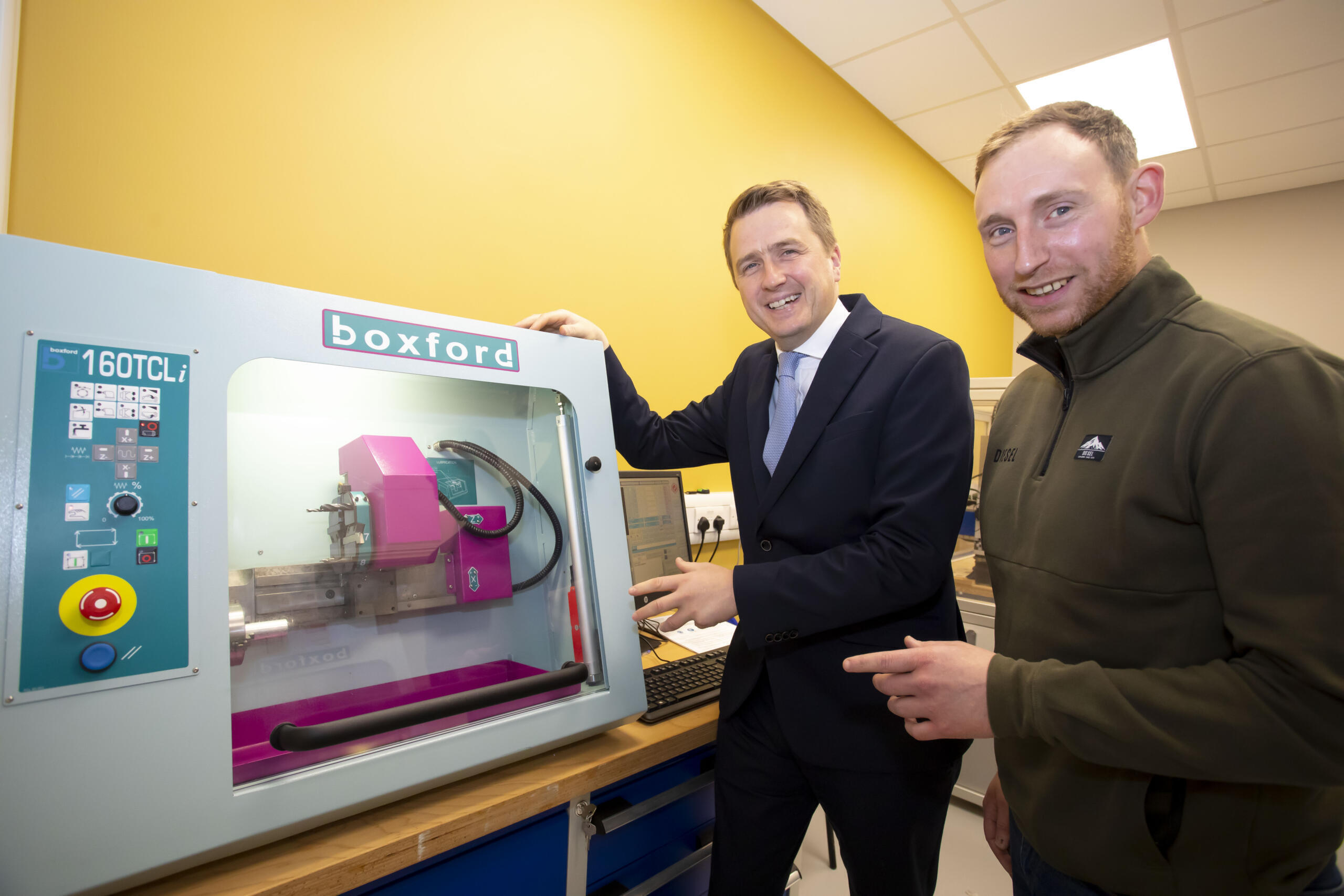 The students on the first course were from well-known companies in the region; Kent Stainless; Mann Engineering; Burnside and PB Machine Tech. The programme was delivered through hands-on training for a range of manufacturing processes. The practical aspect of the course is mainly carried out in WWETB's FabLab while lectures are delivered in both Enniscorthy and SETU's Carlow campus. The FabLab (Fabrication Laboratory) is a fabrication workshop which gives everyone in the community – from young children to entrepreneurs, schools and established businesses – the capability to turn their ideas into reality. Using open source design software and a selection of computer-controlled machines, users can design and make almost anything.
Michael O'Brien, Innovation and Development Manager WWETB welcomed everyone and thanked the students for their contribution stating; "The course is an excellent example of ongoing collaboration between Further Education and Training (FET) and Higher Education (HE) in providing upskilling opportunities for industry locally".
Commenting on the programme Ray Kehoe, Division Manager, PB Machine Tech said, "It is essential to keep our staff up to date with the latest state-of-the-art technologies, which we continually deploy for product and process development".
SETU's Dr Mark Wylie, Course Director said, "The innovative structure of the programme is intended to broaden inclusion and benefit both students and employers in the region. They will profit from recent investment in industry standard equipment and software".
Due to the success of the implementation of the first programme and strong demand from employers, WWETB and SETU are planning on running the programme again in January 2023. The programme will be delivered one day per week for 15 weeks and will take the form of classroom lectures, labs and on-site industry field trips. The technical component of the course will be delivered at WWETB's FabLab premises in Enniscorthy Enterprise and Technology Centre, Bellefield, Enniscorthy and lectures will take place in SETU's Carlow campus and at Enniscorthy Enterprise and Technology Centre. Interested employers or prospective students can contact Course Director, Dr Mark Wylie for further information; [email protected].