SETU students in cyber and tech security go behind the scenes at Shannon Airport
South East Technological University (SETU) postgraduate students studying Industrial Networks and Cybersecurity and PhD candidates in the Operational Technology Security (OTSec) thematic area within SETU's engCORE, (Engineering Centre of Research and Enterprise), recently visited Shannon Airport.
A key part of the Industrial Networks and Cybersecurity programme is a work-based learning and professional development module within which the participants are expected to participate in a yearlong jigsaw cybersecurity project in an Operational Technology (OT) environment. The management at Shannon Airport, working with the programme staff at SETU have provided an excellent opportunity for the group to develop their skills in this area.
During the visit, SETU visitors were given an extensive briefing on Operational Technology (OT) within airport systems. This proved to be a very comprehensive briefing with interaction from many of the SETU visitors. Following the briefing, the programme participants toured the OT systems that keep the airport running such as baggage control, runway lights and power. It provided a fantastic basis for the programme's jigsaw project.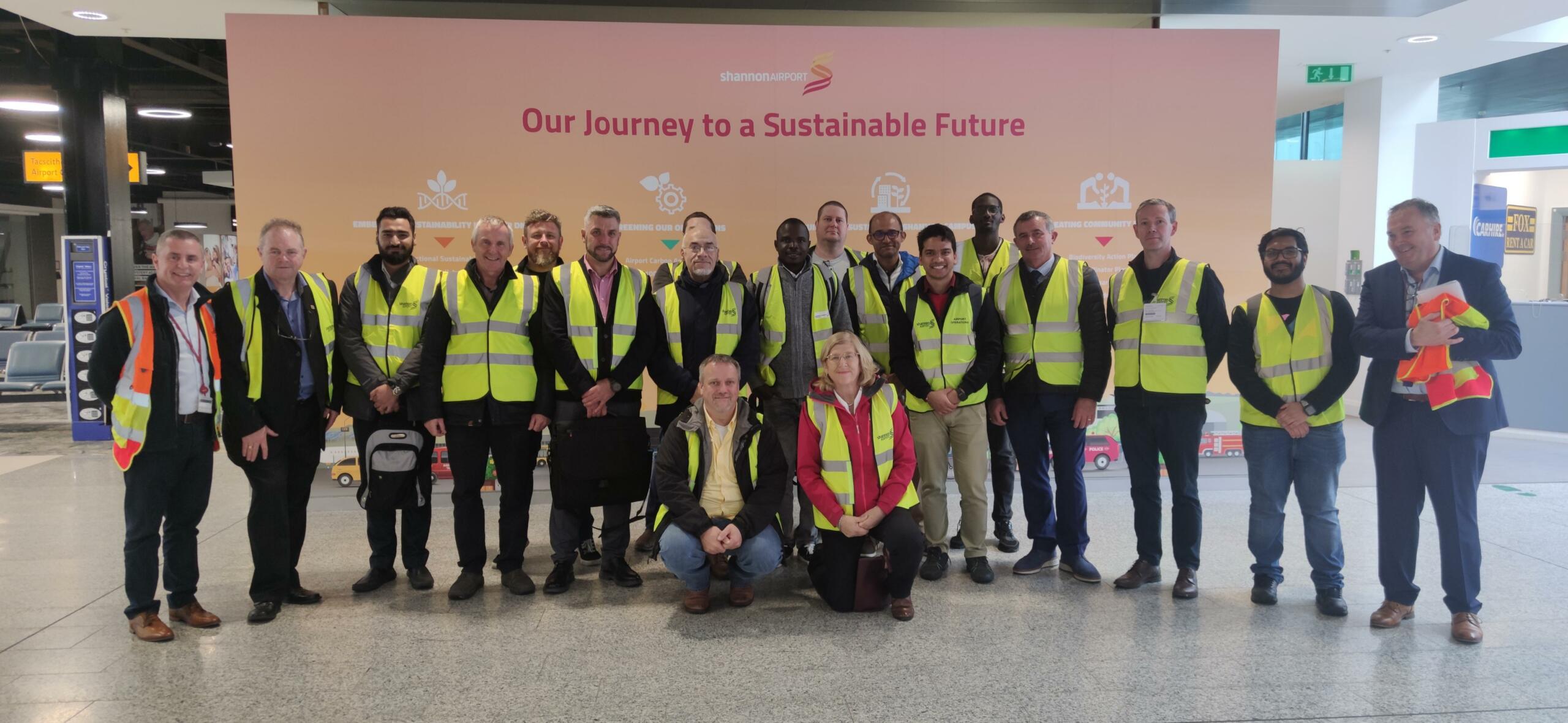 Niall Kearns, Airport Director, The Shannon Airport Group spoke enthusiastically about the collaboration between Shannon Airport and SETU; "We were delighted to host faculty members and students from SETU. The group received a presentation on the history of Shannon Airport followed by a talk on development, maintenance and engineering, and information systems from members of the airport management team.
"We look forward to welcoming the students back to Shannon Airport in April next year, for their end of year presentation on cybersecurity best practice in operations technology and were delighted to facilitate their study."
Dr Diarmuid Ó Briain, Programme Director, PGDip/MSc in Industrial Networks and Cybersecurity, and Principal Investigator of Cybersecurity at engCORE was delighted with the opportunity for SETU students to work with a company with such a pioneering history; "SETU's Postgraduate Diploma and Master of Science in Industrial Networks and Cybersecurity programme teams are delighted to partner with Shannon Airport. As part of the work-based learning and professional development module, participants are required to engage in a group project to consider the Operational Technology (OT) of a manufacturing facility or utility. The opportunity to work with the airport that has such a pioneering history, the first transatlantic proving flight, the first duty-free airport, first US pre-clearance and in more recent times it has broken new ground with state-of-the-art security and baggage handling OT systems. It is the ideal utility for our programme at SETU to work with."