DkIT Supports Female Students in STEM
Dundalk Institute of Technology (DkIT) recently rolled out a series of talks to female TY students called 'DkIT Loves STEM'. STEM stands for Science, Technology, Engineering and Maths and this roadshow visited schools in the region which included visits to Sacred Heart Drogheda, St Louis Monaghan, St Vincent's Dundalk, St Louis Dundalk and Greenhills Drogheda.
Leading female academics from the Institute who specialise in Science, Technology, Engineering and Maths were delighted to meet with female students and share their own experience and career journeys within the STEM industry. STEM is the fastest growing and most in demand sector in Ireland, but recent research undertaken by iWish reported that 57% of girls lack confidence in their ability to pursue a STEM career, 66% of girls see lack of information about STEM careers as a barrier to pursuing a career in STEM, with 84% of girls wanting to know more about STEM. But on a positive note, 93% reject the stereotype that STEM careers are more suited to boys than girls. The aim of these talks facilitated by DkIT was to address the current barriers to STEM for females by hosting talks sharing expert females experience of STEM industries.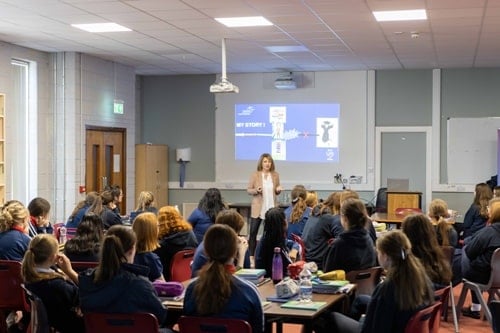 DkIT were particularly excited to have engaged with these female TY students and enable these talks to discuss all things STEM, as this year they are on track to open their new state of the art 1,300 sqm Science extension. This extension is part of an important capital investment in DkIT which will allow the Institute to transform its existing facilities into a STEM centre of excellence within the northeast.
Ciara O'Shea, Equality & Diversity Officer (Athena SWAN Coordinator) at DkIT said 'We were absolutely delighted to get the opportunity to visit our surrounding girls' schools and bring our good news STEM stories to them. DkIT passionately believe in bringing equality to all subjects, particularly STEM as it is currently underrepresented by female students. I'd like to thank all the schools that were involved and our fabulous STEM role models who shared their stories with the students, which included Dr Fiona Lawless, Mathematics and Technology, Dr Orla Sherlock who represented Sciences and MaryEllen Kelledy who brought Engineering to life for the TY students. We are extremely excited about the opening of our new and upgraded STEM facilities on campus. It is exhilarating times for STEM in DkIT!
For more information on Science, Technology, Engineering and Maths (STEM) at DkIT visit www.dkit.ie