Carpentry and Joinery Apprenticeships in DkIT
Wooden it be nice - Steps to a brighter future
Dundalk Institute of Technology (DkIT) are delighted to wish their latest block of Phase 6 Apprentices from the Carpentry and Joinery programme the very best for their future.
This recent block who have just finished their senior phase 6 level of training and are soon to become fully qualified in Carpentry and Joinery included Katherine Hannon who was the only female in this group and only the fourth female to come through the Carpentry and Joinery Apprenticeship in the Institute since 2008.
Simon O'Neill (Head of Section of Carpentry/Joinery and Plumbing)
"Katherine and previous female apprentices certainly have brought a fresher and newer dynamic to the classroom and training environment. As Katherine has demonstrated, females often bring an attention to detail and approach that enhance not only their own work but also the work of other colleagues. My experience has been that females who engage in apprenticeships not only succeed but excel, and from that perspective I would strongly encourage more females to consider apprenticeship as a pathway to a successful and rewarding career."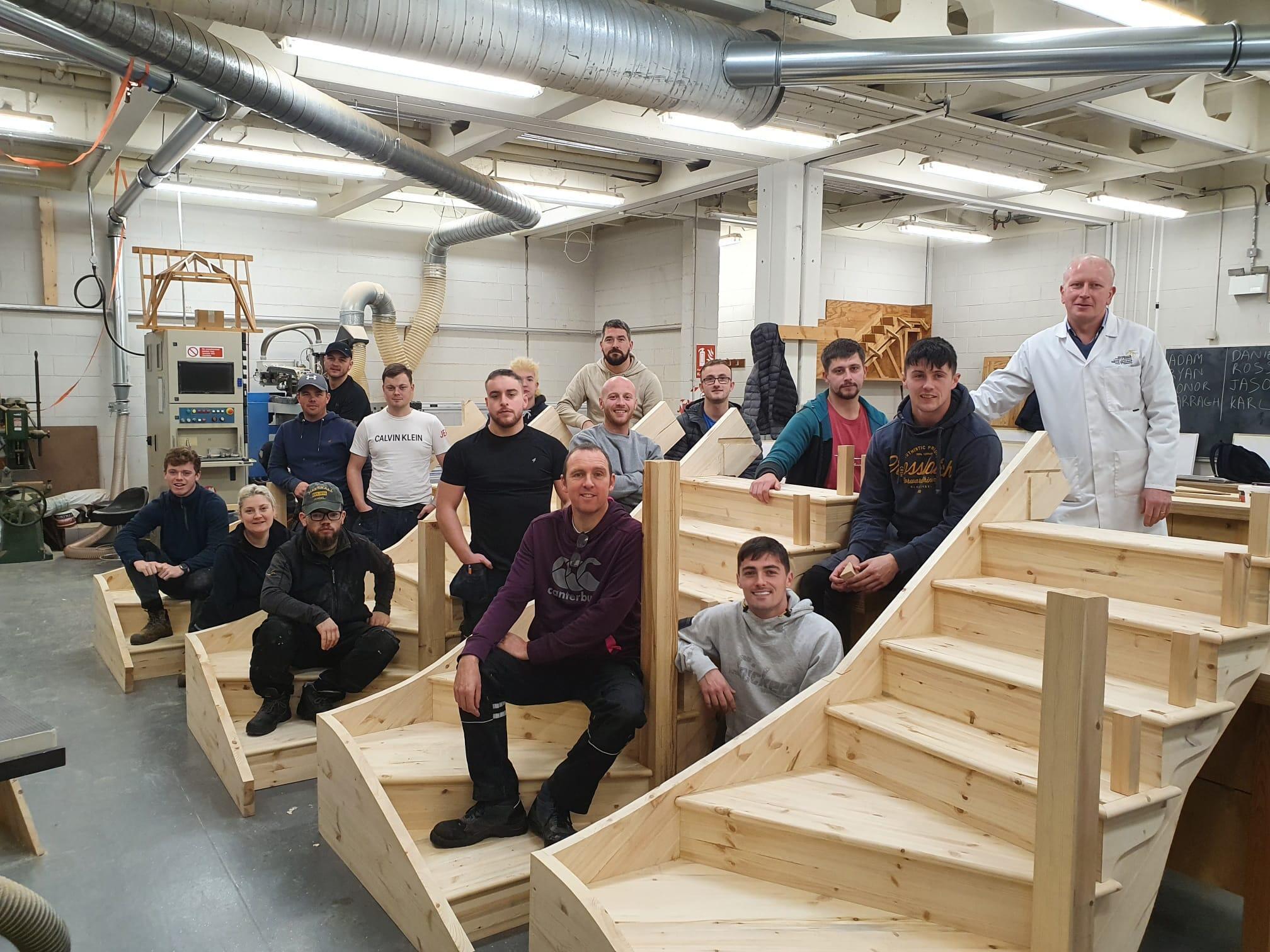 Katherine has had an interesting and diverse educational journey towards her apprenticeship. Straight after school, she pursued a qualification in fashion design and patternmaking which took her to New York where she worked in Manhattan for a designer. In the years that followed Katherine worked mainly for herself designing and making bespoke wedding dresses and occasion wear. This time also saw her working for several charities making wheelchairs and simultaneously, she taught patternmaking and started studying Mathematical Sciences at night. In 2010, she took on with studying Maths full time, skipping from first to third year due to her results and completed the degree with a First Class Honours in 2012. After achieving this qualification Katherine went to work for a bank but after three years, she felt the pull of working with her hands again and went back to making wheelchairs.
In 2018 Katherine saw an advertisement for Dublin City Council looking for apprentices in Carpentry and Joinery. She successfully commenced her training in September 2018 at the age of 35. Katherine Hannon said "During my time as an apprentice in Dublin City Council there has been a total of 7 female Carpentry Apprentices, there is another girl along with myself about to qualify and there is a mix of females with some coming straight from school, which is fantastic to see. I wish I had known apprenticeships was an option when I was younger. I was always great with my hands and loved logical thinking, I was always good at art and maths and this apprenticeship marries both of those skills perfectly"
Katherine went to an all-girls secondary school and hadn't any exposure to woodwork or any information about apprenticeships, however she was brought up in a home where her mother inspired her to be hands on and do her own DIY. "My mother was always hands on with DIY , if she needed something practical done, she got the tools and did it, she completely supported me to do the apprenticeship, she thought it was a great career choice for me". Katherine also attributes her journey towards apprenticeship has been guided by a mentor she met whilst working who was a Master Craftsperson, "he was like a father figure and has encouraged me along the way in my apprenticeship and I've been very lucky to have his support"
Katherine added "Women are well able to be apprentices and I think that in all industries when we have a 50:50 gender balance we create the right environment for us all to learn and grow and bring different skills and mindsets to the table"
Apprentices come from all over Ireland to DkIT to partake in the Institutes apprenticeship blocks. The craft of carpentry and joinery is varied and wide. The occupation includes the setting out, production and assembly of joinery, which includes stairs, doors, windows, floors, and built-in furniture. Site work includes the construction of buildings and houses which require first and second fixing, including roofing.
Photo:
Adam Condron, Robert Doyle, Daniel Fox, Niall Garvey, Damien Geoghegan, Ross Griffin, Katherine Hannon, Jason King, Karl Lakes, Ryan Mc Dowell, Conor Mc Nulty, Dylan McGuire, Darragh O'Leary, Luke Reihill, James Smith, C&J lecturer Cathal Bannon