DkIT Agriculture Student Awarded Prestigious Travel Bursary
Dundalk Institute of Technology (DkIT) are absolutely delighted to report that one of their students from the BSc (Hons) in Sustainable Agriculture/Agri-Food Production course, Ciara Smith, a 21-year-old from County Meath, has won a prestigious travel bursary and will be supported financially via the prize while on work placement in Germany this summer.
This bursary which is supported by the Agricultural Science Association (ASA) and the Irish Farmers Journal, has recently announced the details of this year's recipients of the highly coveted PWE (Professional Work Experience) travel bursaries and Ciara has been named as one of the beneficiaries. These much sought-after bursaries both support and encourage students to expand their knowledge of the global Agri-Food sector by gaining practical experience while traveling overseas.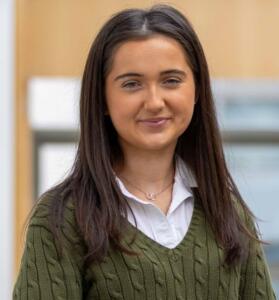 This award will enable Ciara who is currently in third year in DkIT to travel to North Germany and work at one of Europe's leading premium pet food companies, Landguth. Landguth provides product innovation and production for premium pet food brands such as Lilys Kitchen – the UK's no.1 pet food brand. During her 12-week work placement Ciara will gain practical experience of food production in a factory setting, as well as experiencing agriculture in a farm environment in Germany.
Speaking about the opportunity, she said: "I think that working in food production in another country will be of great benefit to me, as it has huge relevance to my degree and will provide me with a greater understanding of the industry on an international level. Throughout this placement I will complete two weeks in each department of the business, e.g. two weeks in technical, quality and product development. I believe this will help me link an experienced knowledge to the modules within my own degree". She also added "Many thanks to the Irish Farmer's Journal and The Agricultural Science Association for awarding me with this travel bursary."
Dr Joseph Lynch, Department of Agriculture, Food & Animal Health, DkIT said, "We are delighted that the Agricultural Science Association and the Irish Farmers Journal are supporting Dundalk IT Agriculture students through this placement bursary. We have seen previously that placements abroad allow students to greatly develop their understanding of the advantages, challenges and opportunities that the Irish Agri-Food sector has in the context of global food production. We hope that this new bursary will help promote the significant opportunities for valuable international placements amongst our students and help awardees such as Ciara to gain some fantastic experience and skills that we are confident will help them contribute substantially to the Agri-Food sector as it develops in the coming years".
2023 marks the continuation of this joint initiative from the ASA and Irish Farmers Journal whereby students who express an interest in fulfilling the work placement module of their degree overseas are rewarded with a travel bursary.