Digital Economy and Society
On July 28 the European Commission released the new results of the 2022 Digital Economy and Society Index (DESI), which tracks Europe's digital performance and the progress made by the EU countries every year.
The DESI 2022 reports are based mainly on 2021 data and track the progress made in EU Member States in digital. While EU Member States have made progress in their digitalisation efforts during the COVID-19 pandemic, they are still struggling to address the gaps in digital skills, turn SMEs into digital businesses, and put out cutting-edge 5G networks. Nevertheless, the EU has made a huge effort to support the digital transformation: with almost €127 billion earmarked for reforms and investments in the digital sector, the Recovery and Resilience Facility (RRF) presents an unmatched opportunity to accelerate the digital transformation that the EU and its Member States cannot afford to pass up.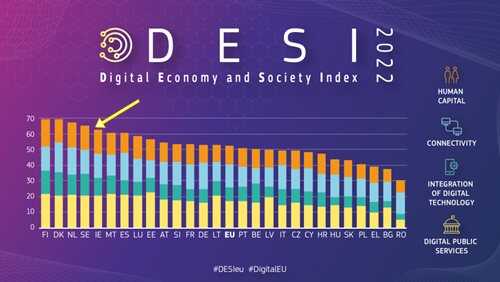 A true digital transformation requires a decisive step forward in the acquisition of digital skills by citizens. People without the necessary digital skills run the risk of falling behind as digital technologies become a necessary component of daily life and participation in society. The data of the 2022 DESI report show that only 54% of Europeans aged between 16 -74 have at least basic digital skills. The Digital Decade target is at least 80% of citizens by 2030.
Click here to read full article ...