BCFE Media Graduates front new show Monday Night Live on RTE
RTÉ One is home to a brand-new current affairs series, Monday Night Live, which began on October 3rd.
Journalists and BCFE graduates Mark Coughlan and Sharon Tobin are hosting the series along with David McCullagh and Louise Byrne.
The show will deal with the major issues affecting people, including the housing shortage, childcare, and climate change.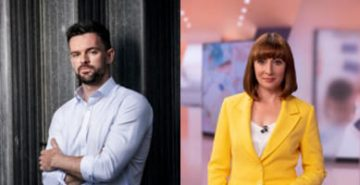 Congratulations Mark and Sharon.
Sharon is also a great ambassador for BCFE and Further Education.
RTE's Sharon Tobin recommends Further Education
"I decided I was still interested in broadcasting and journalism and a teacher advised me to put together my portfolio and demos from my student radio work. I applied to Ballyfermot College of Further Education's Higher National Diploma in Radio Production."
says Sharon Tobin, journalist and newsreader with RTÉ.
BCFE Radio & Podcasting Course and Media Degree student RTE's Sharon Tobin recommends FE Route in Irish Times article.
Read full article on Irish Times
RTÉ's Six One News Reader Sharon Tobin did the BCFE HND Radio Broadcasting and Journalism course and then continued with the top up year for the Level 8 Degree in Media Production Management.
Sharon was just interviewed by Peter McGuire of the Irish Times and in a fascinating article, Sharon speaks very positively about why she chose PLC and FE and came to us here at Ballyfermot College of Further Education.
Speaking on the Social side of college and networking, Sharon said,
"The people we were in college with worked in events management, TV or radio. Everyone was busy outside college, so if they were running an event, you'd go to it. The whole place was brimming with massive creative energy. I still meet so many people from BCFE and I wonder, how did we all fit in this building? I know that universities and colleges have good alumni connections, so for a college like BCFE to have such a strong network is really special."
Sharon formally had been on the cover of the RTE Guide and spoke about FE and Ballyfermot College in that too.