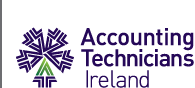 Accounting Technicians Ireland's new apprenticeship programme to represent one of the most significant changes to Irish education system in decades
Successful launch in Northern Ireland to be replicated in ROI in 2016
11th March 2016: Accounting Technicians Ireland's (ATI) new apprenticeship programme is expected create 70 positions for school leavers across 60 companies when it is launched in the Republic of Ireland this year. The apprenticeship programme, which sees students employed for two years while also attending classes in ATI partner colleges, was successfully launched in Northern Ireland last year.
It has brought significant benefits to the economy, employers, and, above all, young people, according to Betty McLaughlin, President of the Institute of Guidance Counsellors. ATI aims to replicate this impact with the launch of its programme in the Republic in September this year. Betty McLaughlin was speaking in advance of the ATI Annual Dinner, which is being held this evening and attended by 140 business leaders and education stakeholders from across the entire island of Ireland.
The programme provides an alternative entrance route to starting a career in the accountancy and finance profession. Successful participants of the programme will gain an internationally recognised qualification – the Diploma for Accounting Technicians (MIATI) from Accounting Technicians Ireland - which is a Level 5 qualification (QCF) and equivalent to a Foundation Degree programme. In the Republic of Ireland, ATI has already agreed to partner with Education Training Boards in Monaghan-Cavan, Cork, City of Dublin, Dublin/Dun Laoghaire, and Kildare-Wicklow to deliver the apprenticeship.
ATI's Higher Apprenticeship programme in Northern Ireland has been a tremendous success since its launch last year. ATI currently has 90 students studying across six colleges in Northern Ireland. To date, 60 employers have signed up to both foster and benefit from the exceptional young talent that the programme makes available. Applications from employers interested in partnering with ATI when the programme is launched in the Republic are now being considered.
Betty McLaughlin points to another impact the programme has had: "I believe that the success of this programme had helped to drive a cultural shift in the perception of apprenticeships in the North, and that this trend will continue when the programme takes hold here. The combined support that students receive when employers and college partners are investing in them is unquestionably a recipe for success. This dual approach is something that the Institute of Guidance Counsellors have called for repeatedly, and it is very exciting to see Accounting Technicians Ireland are leading the way in providing an innovative path to professional career in the exciting growth sector of financial services."
ATI President Shauna Greely discussed the opportunities that are available for students who sign up for the apprenticeship programme: "There is a huge demand for accounting technicians in Ireland, and that demand is currently far outstripping supply. The hard work that our students put in to achieving their qualifications is rewarded with an employment rate of 95%. They have developed a skillset that is in demand in good times and in bad."
This success is in stark contrast to the report from the OECD, which showed that 40% of Irish people were working in areas that did not match their qualifications. Betty McLaughlin continues: "We have one of the highest proportions of third-level graduates in Europe; however, there are many people for who are finding that third level is not meeting their needs, and, up until recently, apprenticeships were not in a position to offer a meaningful alternative. Solas has pointed towards Switzerland, where 70% of all 15-19 year olds participate in apprenticeships, but, crucially, apprenticeships there extend into all kinds of professional fields. The launch of ATI's apprenticeship programme in the ROI will represent one of the most significant changes to the Irish education system in decades."
Established in 1983, Accounting Technicians Ireland is the leading professional body for accounting technicians on the island of Ireland, educating, supporting and representing over 10,000 people working in the profession.