Women in Music in Ireland
A Chapter by DkIT Scholar is Included in Women in Music in Ireland Publication
Dundalk Institute of Technology (DkIT) are delighted to report that Dr Daithí Kearney Co-Director of the Centre for Creative Arts Research was responsible for a chapter in the ground-breaking book Women in Music in Ireland which was published recently.
This book was edited by Dr Jennifer O'Connor Madson, Dr Laura Watson and Dr Ita Beausang and includes twelve chapters from leadings scholars across a range of musical activity in Ireland. The publication explores the world of women's professional and amateur musical activity as it developed on and beyond the island of Ireland. In a story which spans several centuries, the book highlights representative composers and performers in classical music, Irish traditional music, and contemporary art music whose contributions have been marginalised in music narratives.
As well as investigating the careers of public figures, this edited collection brings attention to women who engaged with and taught music in a variety of domestic settings. It also shines a spotlight on women who worked behind the scenes to build infrastructures such as festivals and educational institutions which remain at the heart of the country's musical life today.
The book addresses and reconsiders ideas about the intersections of music, gender, and Irish society, including how the national emblem of the harp became recast as a symbol of Irish womanhood in the twentieth century.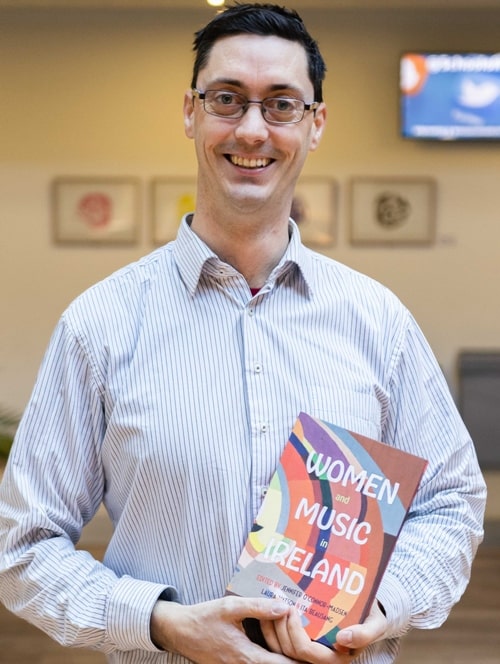 The chapter by Dr Daithí Kearney focused on Josephine Keegan who is a remarkable musician and composer from South Armagh. Josephine's importance has so far been largely neglected and this chapter by Dr Kearney highlights her multiple achievements as piano accompanist to male soloists, fiddle soloist of note in her own right, collector, and composer of Irish traditional music and as a teacher.
Josephine is no stranger to Dundalk Institute of Technology and has been a welcome guest at a number of events. In 2013, she was awarded an honorary member of the DkIT Traditional Music Ensemble when she joined the institute for a concert celebrating her music. Her compositions have regularly featured in performances by students at DkIT and her life has inspired several research projects.
Women in Music in Ireland is published by Boydell and Brewer and available from Women and Music in Ireland (boydellandbrewer.com)