B.A. Top Up Degree In Video & Film Production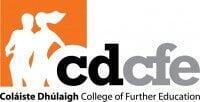 Coláiste Dhúlaigh College of Further Education is now offering a one year top-up degree programme in Video and Film Production (BA Hons) in conjunction with the University of Wolverhampton (UK). Accredited by the University of Wolverhampton, the course has been developed by the coordinator and tutors to be relevant to our students, the growing national film industry and its impact at home and abroad.
Practically and creatively led, the degree is supported by academic subjects and an optional industry work placement (with broadcasters; distribution, production and post-production companies, shoots, etc.) secured by the students themselves as part of the curriculum. The course is taught by industry professionals and with further visiting industry guest lectures and workshops during the year.
In the 2013-14 academic year, the first of the Video and Film Production BA top-up, students benefited from the expertise of film directors, producers, professional crew in the areas of camera and sound, and in the areas of new media, distribution, screenwriting and script editing, as well as representatives form Film & TV Irish industry bodies and organisations.