Solar Restrictions on Schools to be Removed
Government shackles on small scale solar finally set to be removed
Friends of the Earth welcomes Oireachtas approval of Government plan to remove solar planning restrictions after years of inaction and calls on Minister to immediately sign-off on updated regulations.
Friends of the Earth has welcomed the news that long-awaited planning regulations for solar panels have now been approved by the Joint Oireachtas Committee on Housing. This penultimate stage paves the way for the Government to finally remove onerous requirements for schools to attain planning permission for even a single solar panel. Friends of the Earth is calling on Peter Burke, Minister of State at the Department of Housing, Local Government to immediately take final step and immediately sign the updated regulations so they come into effect.
For the best part of a decade, due to omissions from the planning regulations, schools have been obliged to have planning permission to put up even one solar panel, resulting in significant additional costs and delays. The planning regulations also restrict the number and size of panels that can be put on homes and other buildings . These revised regulations removes these main planning restrictions. It will open up opportunities for schools, homes and businesses to put up enough panels to let them generate some or all of their electricity and potentially sell excess electricity back to the grid.
Since 2019 the Government had made repeated statements that planning regulations would be reviewed and updated . However, successive Ministers and the Department of Housing ignored the Government's own commitments with deadlines repeatedly disregarded. Issues related to glint and glare at Irish airports were also held up as a barrier, despite Dublin airport already having in place a major solar installation and notwithstanding progressive planning regimes for solar panels already being in place in other EU states.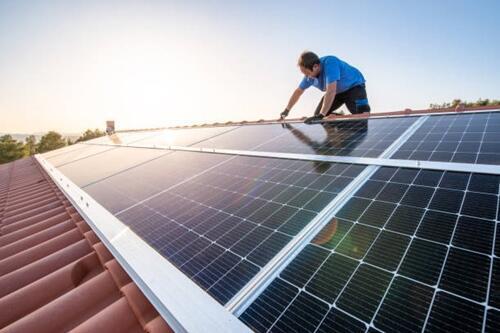 Oisín Coghlan, Director of Friends of the Earth said:
"We are finally approaching the finish line after years of dithering on solar. It has taken 4 years for Government to progress removal of planning restrictions on solar panels. We welcome the huge efforts from schools, groups and campaigners to make every school in Ireland a solar school. We are now calling on the Minister to sign the regulations into law without delay.
"Friends of the Earth has been campaigning to put communities and schools at the heart of a rooftop revolution for almost 10 years. Indeed, Leo Varadkar signed our solar petition at Electric Picnic in 2016!
"The change is one more step in a series of measures to put communities at the heart of Ireland's energy revolution, where they belong. Payment for surplus energy from solar panels is now possible and in this week's Budget the Government committed to installing solar panels on all schools in the country , as well as new supports for installation of solar panels on other community and commercial buildings.
"Decarbonising the energy sector has to take place with and for communities and not simply be something that happens around them. And in the context of the energy crisis, it also helps to reduce people's dependence on polluting, expensive fossil fuels."
Jerry Mac Evilly, Head of Policy in Friends of the Earth said:
"We are finally at the stage where the solar revolution can begin. Ireland is a laggard when it comes to solar energy. The repeated kicks to touch and mixed messages from Ministers have pushed the bounds of logic and credulity and have undermined the Government's reputation. Put simply - climate action should not be this hard, particularly where there already exists universal public, industry and political support for this change.
"We have had a situation where Government has been committing to leadership on renewable energy development at national level, yet schools and homes have been deliberately side-lined. The situation is even more galling when you consider the high levels of rooftop solar in many other northern European countries where no such planning challenges have arisen."