Essential Experiments video series for Leaving Certificate Ag. Sc. Students
UCD School of Agriculture and Food Science and Agri Aware launch Essential Experiments video series for Leaving Certificate Agricultural Science Students
The UCD School of Agriculture & Food Science and Agri Aware have come to the assistance of Leaving Certificate Agricultural Science students by developing a new curriculum-linked experiment video series to aid them in their studies. This is in response to the challenges of school closures and changes to the Agricultural Science curriculum.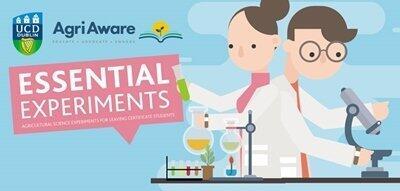 The Essential Experiments series contains at least 11 experiments that cover mandatory, Leaving Cert Agricultural Science experiment topics such as soils, milk quality and crop science.
The experiments in the videos were carried out by UCD School of Agriculture & Food Science professors and staff who received guidance from the Irish Agricultural Science Teachers Association (IASTA) on how best to carry out the experiments in order to fit the needs of students and teachers.
The videos are publicly available for all Leaving Cert Agricultural Science teachers and students on Agri Aware's YouTube channel and through the social media platforms of both AgriAware and the UCD School of Agriculture and Food Science.
Check out the Essential Experiment videos - here. The first two videos: Investigating the quality of a sample of mile over time and Soil Biology Field Practical have already been launched and more will be added over the coming weeks, so keep an eye out.
Further information is available here.
Follow @ucdagfood on Facebook, Twitter, and Instagram for updates.