DkIT's Citizen Science Champion
Samuel Perpétuo
Dundalk Institute of Technology (DkIT) as part of its celebration of all things Science and the pending opening of their new State of the art 1,300 sqm Science Building this September, are delighted to bring you a collection of 'Meet the Scientist' profiles with some of the Institute's leading Science academics.
This week's focus is on Samuel Perpétuo who is from Brazil and is currently pursuing his PhD in Environmental Education and Citizen Science within the School of Health and Science in DkIT. Samuel's educational journey and the pursuit of a PhD in the field of Science has seen him take a less conventional path than most. Samuel originally started his studies in the social sciences, he stated "My background lies in the realm of social sciences. I hold a bachelor's degree in journalism, and during my master's studies, I delved into the captivating intersection of science from a societal standpoint. Specifically, my focus was on citizen science, a field that truly piqued my interest".
He added "One of the intriguing perspectives I explored is the sociology of scientific knowledge. This approach explores the intricate processes of how scientific knowledge takes shape, spreads, and gains acceptance within society. It's like shining a light on the dynamic interactions among social, cultural, and institutional factors that play a role in shaping and legitimizing scientific understanding. This understanding becomes crucial as it underpins informed decision-making. When we comprehend the intricate social factors intertwined with scientific development, we're better equipped to make decisions that are well-rounded and consider a diverse array of viewpoints".
Samuel is based in the research Centre for Fresh Water and Environmental Studies in DkIT and has said of his experience there "It is quite a unique and vibrant space. One of the aspects I truly appreciate about it is its remarkable diversity. Within this environment, you'll find students hailing from various backgrounds and disciplines, creating a rich tapestry of perspectives". He added "What's even more exciting is the international flair it boasts. The fact that it's such an international hub adds an extra layer of value to my experience. It's fascinating to be part of a community where different viewpoints and experiences converge, especially when it comes to my research".
A key component of Samuel's PhD research project involves a new digital App called AquaInverts. The AquaInverts project is part of a broader citizen science platform which in the future will allow the wider public to become involved in the generation of quality data in relation to their local stream or river, while at the same time valuing citizens contribution to research. Samuel's PhD project which started in September 2022 is co-supervised by Dr Caroline Gilleran Stephens, Dr Suzanne Linnane and Dr David Getty (Emeritus).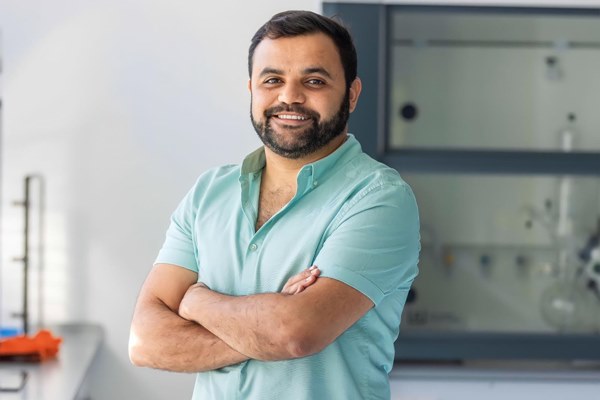 Along with completing his PhD in DkIT, Samuel has also been selected as one of the Institutes N-TUTTOR Student Champions. The N-TUTORR (National Technological University TransfOrmation for Recovery and Resilience) project is a national innovative collaboration across the technological higher education sector in Ireland which aims to transform the student experience through learning and teaching.
Samuel's involvement in the N-TUTTOR project will see students from different disciplines working collaboratively with staff to co-create a cross-curricular assessment for learning that will communicate the UN Sustainable Development Goals (SDGs) to both their peers and their wider communities in a creative and innovative manner by using the short-form video platform, TikTok. Samuel said of his participation "I'm excited to be on a mission and using social media to promote Education for Sustainability around the campus and engage students in our Institute".
Samuels hopes and aspirations for the future are multifaceted, he said "On one hand, I'm deeply passionate about carving out a path in the realm of citizen science and environmental education. On the other hand, I have a strong desire to step into the role of an educator. my ambitions don't stop there. I'm driven by the idea of establishing an NGO that focuses on impactful projects within the realm of environmental education".
For more information on Science at DkIT: www.dkit.ie