DkIT Students Visit Berlin to Participate in EU Project
Dundalk Institute of Technology (DkIT) recently welcomed home a group of ten DkIT computing students who travelled to Berlin to participate in an EU project. The project, called Start-IT, took place at Hochschule für Technik und Wirtschaft Berlin (HTW Berlin - University of Applied Sciences). This project also involved 50 other students from Germany, Finland, Belgium, Poland, and Portugal.
The ten DkIT computing students who were selected to participate in the project were taken from the four programmes BSc (Honours) in Computing in Games Development, BSc (Honours) in Augmented and Virtual Reality, BSc in Computing and BSc in Computing in Mathematics & Data Science.
During the project, the 60 students were organized into ten international teams in such a way as to ensure that each team contained one student from each of the participating colleges. The teams were required to develop a business plan and a mobile app for an application that would be useful to immigrants and/or refugees who live in Berlin. They were also required to develop a business plan to show how they could commercialise their mobile app. The students took their application idea through the entire product lifecycle from concept to sales pitch. On the business side, the lifecycle involved brainstorming, development of a business plan, market research, interviewing potential customers and producing marketing material for the application. On the technical side, the lifecycle involved design, development, and testing of a prototype mobile app.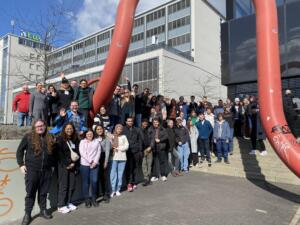 Derek O'Reilly, Senior Lecturer, International & Erasmus Coordinator, Department of Visual & Human-Centred Computing, DkIT said, "This fantastic project provided our students with valuable interpersonal and communications skills. This was achieved by getting the students to work in multidisciplinary and multinational teams and by requiring each team to make three different presentations during the duration of the intensive project. Projects such as this are an integral part of developing student's employability both nationally and internationally".