DkIT Researchers Receive Funding for Revolutionary Dementia Support Project
Dundalk Institute of Technology (DkIT) are delighted to report that researchers from their NetwellCASALA research group are part of the successful team that recently received €254,036 for a revolutionary and life enhancing project that will offer dementia self-management care. This financial support is part of funding recently announced by Minister for Further and Higher Education, Research, Innovation and Science, Simon Harris TD and is funded by the EU's Recovery and Resilience Facility.
The project that received the funding is CODESIGN – Co-creating Dementia Support for InteGrated care, a Novel platform approach. The lead on this project is Dr. Dympna O'Sullivan, School of Computer Science, Technological University Dublin and the Co-Lead is Dr. Julie Doyle, NetwellCASALA, School of Health and Science, DkIT. The DkIT researchers who will work on this project are Dr. Michael Wilson, and Dr. Orla Moran.
The aim of this life enhancing research is to bring together a transdisciplinary team to co-design and co-create a new holistic digital platform for integrated dementia self-management support. The prototype platform will incorporate personalized care planning for persons living with dementia with wider dementia support and services from the Department of Health as well as those provided by dementia support groups. This initiative will allow communication, engagement and shared decision making among people living with dementia and their formal and informal carers. The research will co-create a people-centric digital-first public service and will facilitate a new way for people living with dementia to connect with their carers, their communities and public services which will drive significant enhancements to quality of life for those impacted.
Apart from improving the quality of life for those affected by dementia, the economic impact and total burden of dementia in Ireland is an estimated €1.69 billion. Of this, 43% is accounted for by residential long-stay care. Keeping people with dementia living at home and out of nursing home beds which cost around €1,000 per week is an important goal of HSE policy and home-based dementia care costs €11,000 less per annum than care in formal facilities.
Speaking of the funding, Minister Harris said: "These teams have presented ingenious ideas and committed their talents to working for the benefit of the people of Ireland. In fact, the solutions being worked on in all eight challenges in the National Challenge Fund have the potential not just to improve life here in Ireland, but across Europe and around the world."
Science Foundation Ireland Director General Philip Nolan said: "SFI is very pleased with the response to the National Challenge Fund calls and we are happy to be supporting these teams as they embark on an intense period of engaged research, refining and validating their solutions". He added "The individual problems these teams have identified tally closely with some of the submissions we received from the public during the Creating Our Future campaign, so I look forward to seeing these ideas developed in ways that can improve everyday life in Ireland."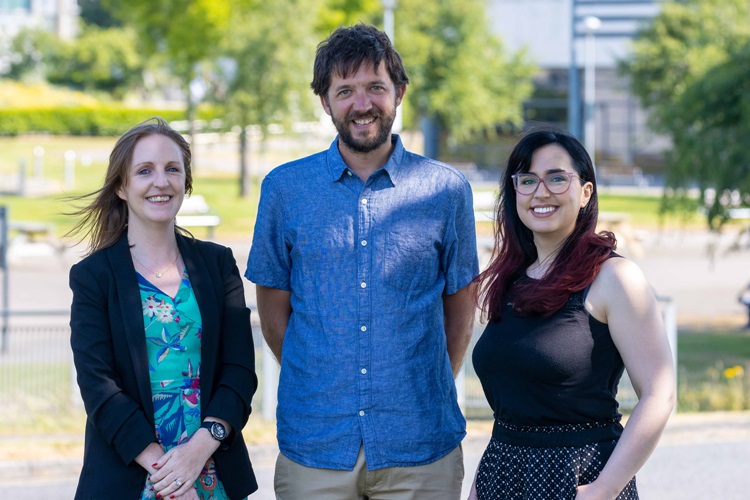 Other DkIT academics were also recipients of financial support from the SFI National Challenge Fund which included the project led by Prof. Jeremy Auerbach, University College Dublin which involves Dr Suzanne Linnane, Dundalk Institute of Technology and is a project on Unleading Water: Community science and environmental justice for health Irish homes. Dr Fergal O'Rourke and Dr Peter Ryan from Dundalk Institute of Technology also received significant funding for their Floating Offshore Measurement Platform project.