DkIT Accounting and Finance Degree
Get a Head Start in the Job Market with DkIT's Accounting and Finance Degree.
Dundalk Institute of Technology (DkIT) are thrilled to announce that their BA (Hons) in Accounting and Finance degree has received full re-accreditation by the Association of Chartered and Certified Accountants (ACCA). The re-accreditation by the ACCA, a global body for professional accountants, comes with exemptions for up to nine papers - the maximum available for any undergraduate degree.
This re-accreditation is wonderful news for students as it enables them to qualify as professional accountants more quickly than some of their counterparts, giving them a head start in the jobs market.
The full-time BA (Hons) in Accounting and Finance programme at Dundalk promotes accounting education and covers technical accounting skills as well as softer skills such as business strategy, business law and marketing/management.
Head of Department of Management and Financial Studies Shane Hill says "Gaining ACCA re-accreditation is brilliant news and it means that current and future students choosing to join us can obtain a qualification that will give them the best possible start to their Accounting career"
Caitriona Allis, Head of ACCA Ireland, adds "Exemption accreditation enables ACCA to award a specific level of exemption to graduates of an educational programme following a full assessment of the programme's regulations, syllabus and assessments. ACCA is delighted to continue the long standing relationship with DkIT dating back over 20 years".
Pat O'Neill, Programme Director of the Accounting and Finance degree at DkIT says "Accreditation is a recognition of the quality of our programme. Exemptions let you start your professional studies at a level that is consistent with the knowledge and skills gained from your degree. They provide a graduate with the quickest route to membership of a professional accounting body".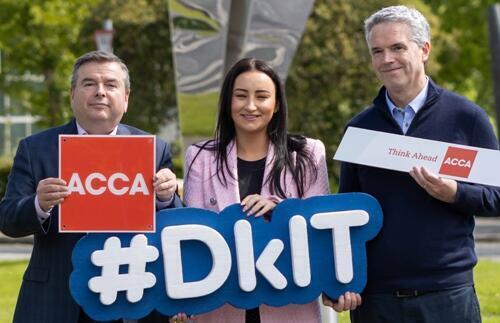 The BA (Hons) in Accounting and Finance degree in DkIT has always been highly regarded by the Industry. Graduates are very much in demand from local, national and international accountancy practices.