Archaeologists in UCD involved in Scottish Excavations
Archaeologists who have carried out excavations in the Scottish Highlands, including a team from UCD, have found the earliest evidence of human habitation in the area as far back as 8,100 BC.
The experts working on the project have also discovered that hunter-gatherers lived in this remote part of Britain during a period of abrupt climate change around 8,000 years ago.
Excavations at sites on the Mar Lodge Estate, deep in the Cairngorms National Park in north Scotland, have yielded radiocarbon dates that have established that there was a human presence in the area around 8,100 BC.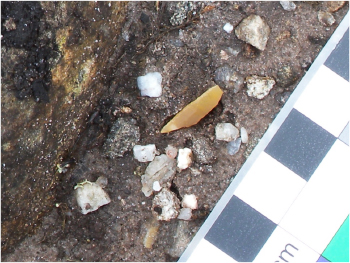 Microliths visible on a footpath at the Caochanan Ruadha excavation site
A partnership between archaeologists and environmental scientists from University College Dublin, University of Aberdeen, University of Stirling, University of Durham and the National Trust for Scotland established the Upper Dee Tributaries Project in 2013 to develop understanding of the estate's prehistory.
The partnership also contributes to the management of these fragile and little understood archaeological sites.
As part of the project, a team of archaeologists from UCD, led by Dr Graeme Warren, who is a Senior Lecturer at the School of Archaeology, University College Dublin, have excavated a remote site in Glen Geldie – a broad upland valley flanked by snow-covered mountains in the area.
The archaeologists excavating the site have found stone tools manufactured from flint and evidence of a fire. Radiocarbon dates from the tools show human occupation of the site at around 6,200-6,100 BC.
The finds are fascinating because they coincide with the most dramatic climatic deterioration since the last ice age.
Dr Warren, who is the excavation director, said: "One of the really striking things is that the site [Glen Geldie] that the UCD team is on is very remote.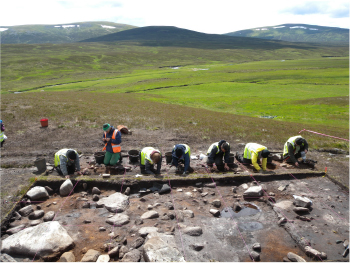 An excavation involving archaeologists from the UCD School of Archaeology at Caochanan Ruadha, Scotland, in July, 2015
"From what we know during that period 8,200 years ago there was a major climate change event where the average annual temperature fell by one to three degrees. Now that might not sound like much, but three degrees is a very significant fall in annual average temperatures, especially up here in the mountains."
The National Trust for Scotland said the excavations have revealed a complex pattern of settlement, showing that people gathered by the riverside in the area thousands of years ago, possibly only a few hundred years after communities began to move back into Scotland when the ice retreated.
Dr Warren said stone tools made of flint found in the Geldie Burn area nearby have also provided archaeologists with fascinating clues as to where the early inhabitants in the area originally came from and what activities they undertook.
"We found a scatter of flint stone tools – they are the remains of toolkits for a variety of different uses – hunting, fishing or maybe even drilling wood," he continued.
"Flint isn't found in the Cairngorms and was probably carried with people as they moved into the mountains. The chances are that people were moving through here because it was a major communication route, or that it was used for hunting for things like red deer, and these are also some of the best rivers for salmon fishing in Scotland."
"We also have a scatter of stone tools across a hillside at Geldie Burn and within that we have a smaller cluster of around 100 artefacts scattered around a fire, including tools, broken tools and waste from making tools," he added.
A high proportion of these stone tools from the Mesolithic period, which are known as microliths, often suggests a specialised function for the site, and a common interpretation of upland sites is that they are hunting locations.
He added that the average size of material excavated at the site in 2014 was just 7mm in length.
Click here to read original article ...