Liberties College is running two free one day workshops for final year students who are hoping to study media next year. The courses are practical and hands-on in camerawork,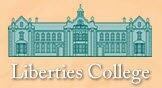 sound and video editing, with all students getting to complete their own short film over the course of the day. The aim is to give students a taste of what they'll be studying if they attend our FETAC, HNC and HND courses in 2019-2020.
I'm attaching the flyer for the day and would greatly appreciate it if you could display this in your school, making all interested students aware of it. If you require further information or clarification, please drop me a line at libertiescollege@gmail.com.
Shortcuts flyer