Women4IT Project Starting

The project "Women4IT" is a multi-stakeholder partnership funded by the EEA Grants and the Norway Grants Fund for Youth Employment.
ICS Skills is one of the 9 Partners from across Europe supporting the programme. It will be implemented in 7 countries: Greece, Ireland, Latvia, Lithuania, Malta, Romania and Spain and supported by two expert partners: The European Centre for Women and Technology in Norway and DIGITALEUROPE in Belgium.
The ambition of the project is to develop the digital competences of young women who are at risk of exclusion from the labour market, by improving their employability. The aim is to assist one hundred women in Ireland to take successful steps into digital job-related employment.
As part of an extensive research that was conducted across all the partner's countries to investigate the skills need in demand in the labour market, 6 job profiles within the IT and digital sectors were identified in Ireland. An online employability profiling tool has also been designed in order to help the women involved in the project to be directed towards the best digital job matching their personality and skills.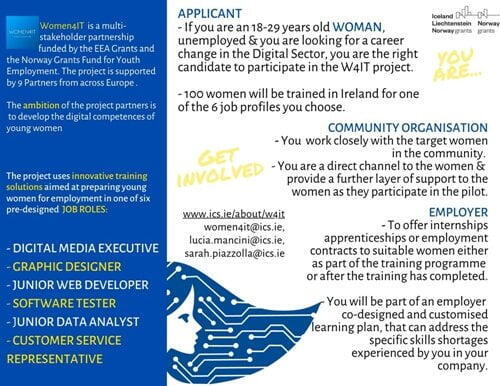 Click here for more information ...