The Perfect Time to put a Spring into your Career
Dundalk Institute of Technology are delighted to announce this year's offering of Springboard + Courses which start this September 2022. Under the Springboard+ initiative, DkIT is offering a range of qualifications across Levels 7, 8 and 9.
As part of the initiative, DkIT is offering places on programmes on a variety of Springboard+ courses to applicants who qualify under the government scheme. These upskilling and re-skilling courses are free for the unemployed and for homemakers while the employed and self-employed can avail of a 90% discount across our suite of programmes. Approval has also been given for an additional 10 full-time postgraduate courses (402 places) under the Government's Human Capital Initiative (HCI) Pillar 1 to run. These HCI courses are specifically for graduates looking to upskill in a new area of work through a postgraduate diploma.
This year DkIT have a fantastic offering of Springboard courses including part-time certificates in Health & Safety (Manufacturing Industry), Fundamentals of Food Production Management, Digital Marketing and Digital Media Management, Audio-Visual Production for Online Platforms, 2D/3D Digital Animation Production and Digital Media Design. There is also Diplomas in Food and Agri-business, Higher Diploma in Science in Computing (Part-time / 2 years), Higher Diploma in Science in Data Analytics (Part-time / 2 years), Higher Diploma in Science in Networking and Systems (Part-time / 2 years) and M.Sc. in Immersive Technology and a M.Sc. in Technical Direction for Computer Animation Production.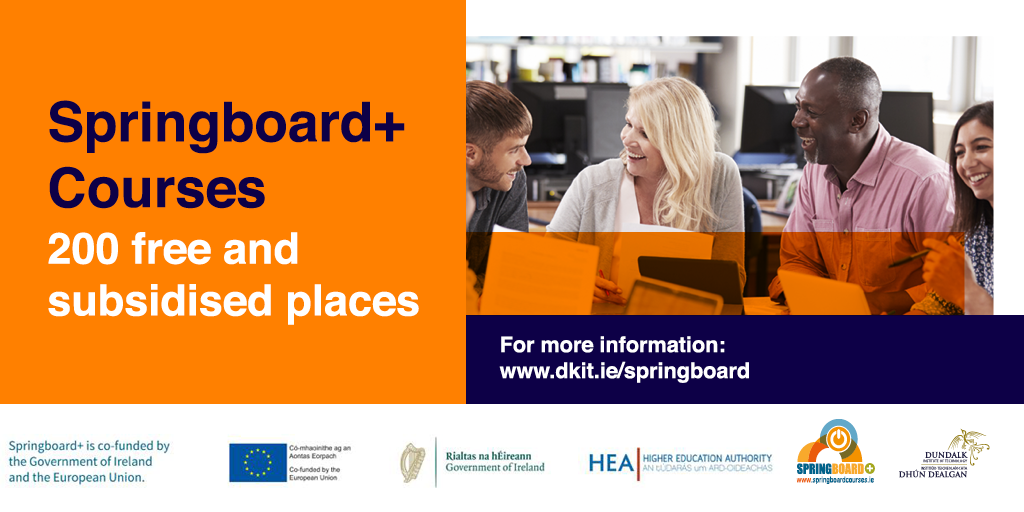 DkIT is deeply committed to the provision of lifelong learning and upskilling opportunities for people living in the North Leinster and South Ulster region. More information on Springboard+ courses is available by contacting the Lifelong Learning Centre at DkIT email [email protected] t. +353 (0)42 93702901) or by visiting www.dkit.ie/springboard