Sofia University St Kliment Ohridski in Bulgaria – Study Medicine Europe is proud to announce that it has begun accepting applications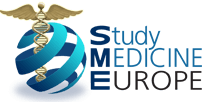 for the renowned "Sofia University St Kliment Ohridski" for the academic year 2016-2017.
Due to the unprecedented number of applicants hoping to achieve a place in one of our top accredited partner Medical Universities, a search for the new academic destinations has been called for quite some time. We are now pleased to inform all aspiring medical students that we are offering you the unique opportunity to start an academic career at one of Bulgaria's most eminent educational institutions.
Sofia University St Kliment Ohridski is the oldest university in the country and until today continues to boast noteworthy scientific accomplishments and a safe and attractive campus with exceptional facilities and above all, offering world-class higher education. The University offers taught programmes in Medicine in the English language.
To get your own application form and secure a place in the Medical programme of Sofia University St Kliment Ohridski, contact us and we will be happy to bring you one step closer to starting the career of your dreams. For more information, concerning the programmes, the University and the City as well as tuition fee, click here.