STEM Entrepreneurship Summer Camp
HEA / SETU STEM Entrepreneur Camp for TY and 5th Year students
Upon consultation with teachers, the dates for this year's STEM Entrepreneurship Camp have been changed to 7 – 10 June.
We are delighted to offer a unique chance for TY and 5th year students to take part in the South East Technological University STEMEntrepreneurship Summer Camp.
We are seeking highly motivated TY and 5th Year students to take part. The camp is offered free of charge through funding by the Higher Education Authority. The camp will run in-person at SETU Waterford from 7 – 10 June, from 10am – 3.30 daily, for TY and 5th year students with lunch being provided each day.
The closing date for student applications is Wednesday, 25 May.
The camp will be delivered by Calmast (South East Technological University's STEM engagement centre) in association with RIKON Business group, ARC Labs Incubation Centre and Growth Hub, all national leaders in their fields.
The camp is a unique chance for students to explore the world of innovation, and entrepreneurship coupled with Science and Engineering, introducing your students to the innovative process of design thinking. The students will learn problem-solving skills, and be introduced to new areas of Science, Technology, Business, Enterprise, Engineering and Maths through the lens of sustainability and climate action. The students will develop their creativity and innovation by addressing real-world challenges, culminating in a "Dragons Den" type of event, where the students will pitch their ideas to leading local Entrepreneurs.
The event is a great gateway for students to explore STEM and Entrepreneurship, gain confidence, learn communication skills, make new friends and have fun!
This is the third Entrepreneur Camp we have run on behalf of the HEA, and previous camps received exceptionally positive feedback. We expect this to be an even better experience as it will be in person
The camp is free of charge
Lunch will be provided each day.
Students will all receive a certificate of participation.
Students are asked to fill in the accompanying application, telling us why they would like to do the camp, and what they hope to get out of it. The link to the application form is below and should be completed by TY and 5th year students before Wednesday, 25 May..
Student application form: https://www.surveymonkey.com/r/STEMEntCampJune22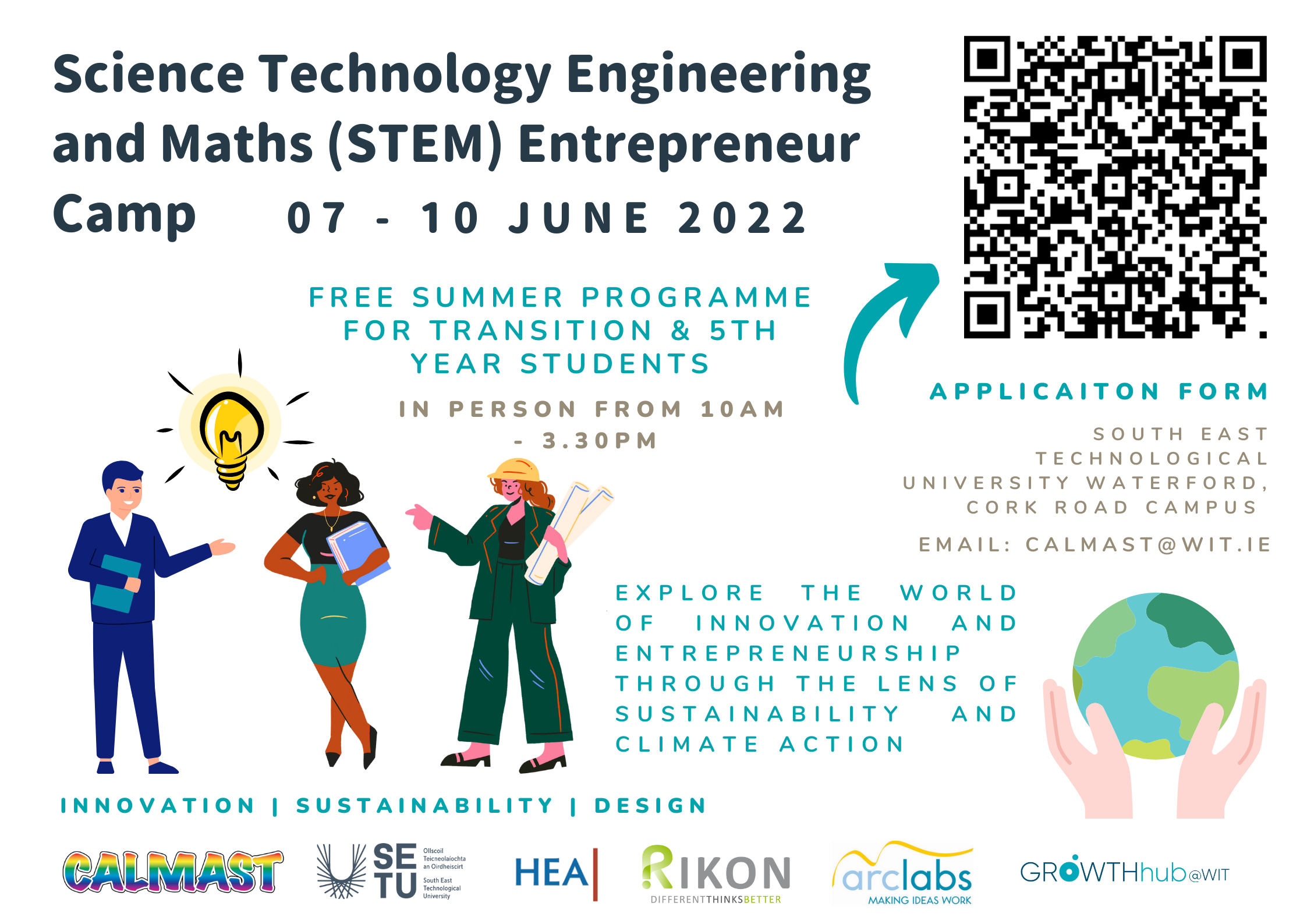 Please note, travel costs should not be a prohibiting factor when applying to take part In the summer camp. We have limited bursuries to cover the travel cost for students if the cost of travel is an issue . Students who wish to apply for a bursary should contact [email protected]
Calmast STEM Engagement Centre
Website: www.calmast.ie