Rathmines College Virtual Open Day
Thursday, 27th January '22 - 2.00 p.m. – 3.30 p.m.
A Virtual & Vibrant Rathmines College Open Day to be filled with Course Variety – 27th January '22.
Join the Rathmines College Virtual Open Day on Thursday, 27th January 2022 from 2.00 p.m. – 3.30 p.m. to find out about the large number of QQI Level 4, 5 & 6 courses this Further Education college offers students.
Join our Virtual Open Day on the Zoom platform with the link on our website www.rathminescollege.ie
On the day students, guidance counsellors and parents can hear from Heads of Departments in Accounting, Arts & Social Science, Business & Marketing, Computer Programming, Legal Studies, Media, Office Administration and Repeat Leaving Cert. Our Guidance Counsellor will also be on hand to talk about the excellent supports Rathmines College can offer students and the progression routes to Higher Education and Careers linked to all our QQI courses.
With Further Education a great progression route to Higher Education, Dept Heads from all course areas will be available to talk through progression routes and the success of graduates to Higher Education.
Why would your students benefit from studying in Rathmines College?
Low registration fees with fees of just €200 for the majority of courses starting in Sept '22. As a College of Further Education Rathmines College courses are all state-funded and so minimum charges apply and SUSI and VTOS grants available.
We have established progression routes from all our courses to Higher Education programmes
Employment opportunities
Exciting new QQI Level 5 courses starting in September '22
A vibrant and mature learning environment in the heart of Rathmines, close to the city centre.
A highly qualified, committed and caring staff.
Our courses offer opportunities to those who have just completed the Leaving Certificate, more mature learners looking to return to education at QQI Level 4, 5 or 6 as well as those looking to repeat the Leaving Certificate.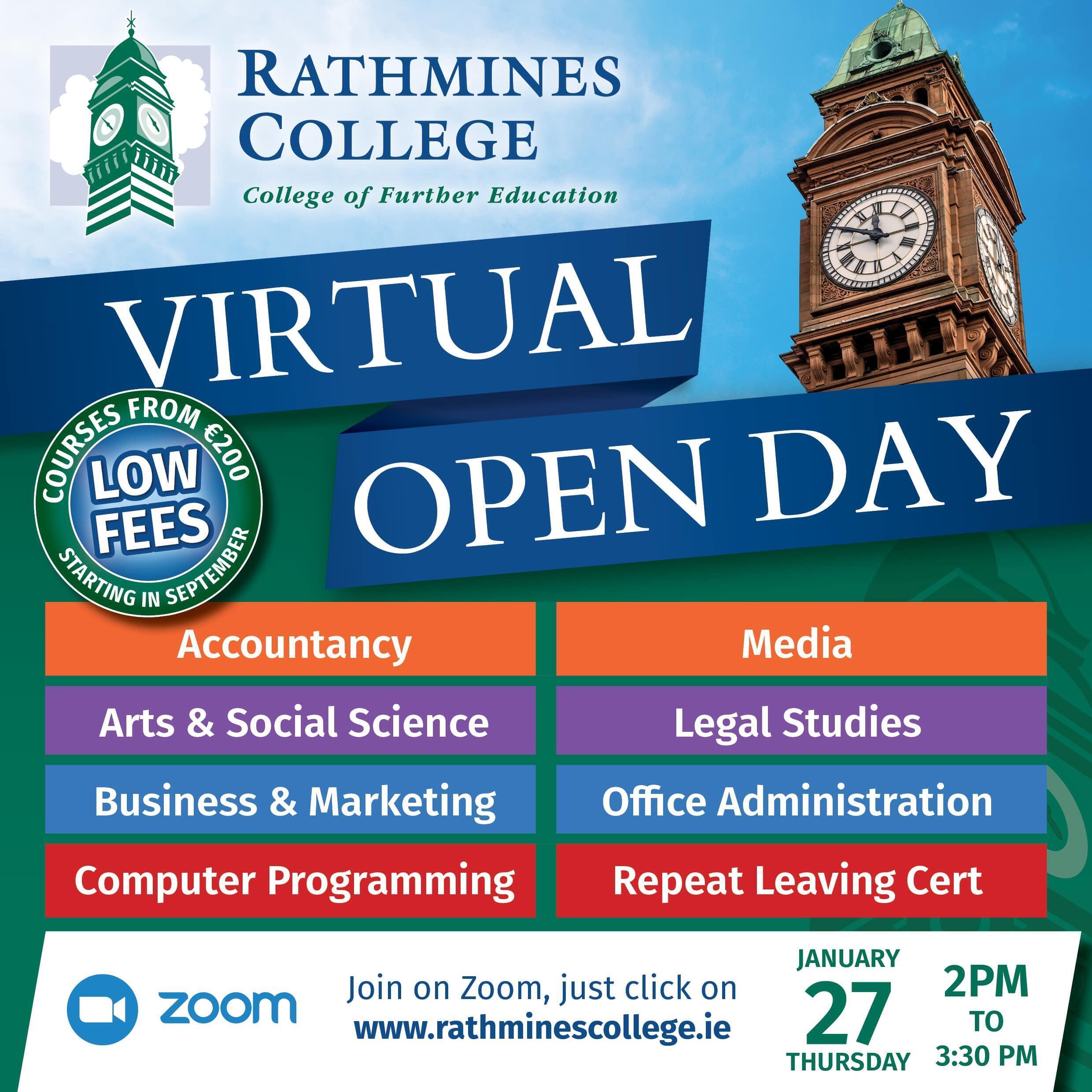 More Virtual Open Day information will be posted on the Rathmines College website and through the busy college social media channels, Facebook, Twitter and Instagram. To go further with Rathmines College click on the link for the January Virtual Open Day, explore all courses in the college and apply online by clicking on www.rathminescollege.ie