B.A. Top Up Degree In Adventure Facilitation & Education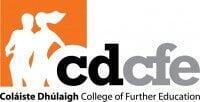 Coláiste Dhúlaigh College of Further Education is delighted to announce it is now offering a one year degree programme in Adventure Facilitation & Education (BA Hons) in partnership with the University of Chichester.
Accredited by the University of Chichester, the programme has been developed by the coordinator and tutors to be relevant to our students, the growing Outdoor Adventure Industry and its impact both at home and abroad.
The course is a unique blended-learning programme, combining academic studies with a strong philosophical and psychological foundation, which incorporates practical placement for students to apply their learning. Modules include: The Reflective Practitioner, Soft Skills Facilitation, Advanced Pedagogical Skills, Applied Coaching, Issues in Adventure Environments and Dissertation. The course will be taught by industry professionals and with further workshops and visiting guest lecturers.
This one year course will be delivered on a part time basis at our Coolock Campus, with a minimum of 12 contact hours per week. The course is to be delivered over 2 afternoon/evenings with the remainder of the week given to industry experience.
Click here for more information …