New Courses in Colaiste Dhulaigh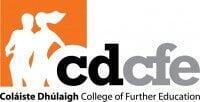 Youth Activities Worker – This is a one year QQI Level 5 course which examines the theory and practice of youth work. The wide range of modules offered enables students to gain a critical awareness of the way in which Youth Work operates. Learners are also enabled to improve their communication skills, self-awareness, critical reflection and interpersonal skills, all of which are central to working in youth work. This course also includes qualifications for the Outdoor Education Industry namely Lowland Leader Award and Rock Climbing
https://www.cdcfe.ie/courses/health-and-leisure/youth-activities-worker
---
Creative Writing for Digital Media – This course is designed for anyone with an interest in creative writing and storytelling. Students will explore various aspects of writing creatively and will be facilitated in developing both written and digital content for online platforms.
The course will focus on developing writing skills for both fiction and scripts as well as creation of promotional digital content for multi platform delivery. Classes will be delivered in a relaxed environment and learners will be given the opportunity to build on existing and/or new story ideas.
https://www.cdcfe.ie/courses/media/creative-writing-for-digital-media
---
Pre-University Science – This course has been designed to meet the needs of a variety of students wishing to study Science, specifically those who did not satisfy the entry requirements for direct entry to a degree course, and adult returnees to education.
Students who pass all modules including course practical work (the pass mark in each subject is 50%) may be eligible for entry to a variety of Level 7 and 8 degree courses in Universities and Institutes of Technology nationwide.
https://www.cdcfe.ie/courses/science-technology/pre-university-science-qqi-l5-award-in-lab.-techniques