Leaving Certificate Computer Science - Research
My name is Joyce Borges and I work in Lero – the Irish Software Research Centre, University of Limerick. I am currently undertaking research on the Leaving Certificate Computer Science subject as it is being rolled out in Irish schools. The title of the research is 'CS Impact'. The purpose of this research is to gain an insight into the students' experience of the Computer Science subject in Ireland.
A Lero report was published in August 2020 which focused on the teachers' perspective of teaching Computer Science. For this current research, we are interested in the students' experiences of studying Computer Science. A representative number of schools have been selected, one of which is your school, and I would be grateful if you consented to your students being interviewed. I realise this has been a challenging time for schools and so we have designed the study to have minimal impact on the students and the school. It essentially consists of a short 2-day visit to the school and a second short follow-up visit in the Spring.
As part of this work, I will be interviewing a small sample of 5th and 6th Year students to get their views of the Computer Science subject. The interview will take place at your school and will last approximately 60 minutes. Interviews will be audio-recorded and transcribed in full. I will also ask students to complete brief written accounts of their experiences fortnightly for a period of 3 months to get more insight into their experiences of Computer Science. These written accounts will be completed online. 5th Year students will be invited to a second interview after this 3-month period. Students will be asked to provide an email address (preferably a school email address) in order to be sent the link for completing the written accounts. The email addresses will be stored separate from the data provided and will be deleted once all accounts are completed.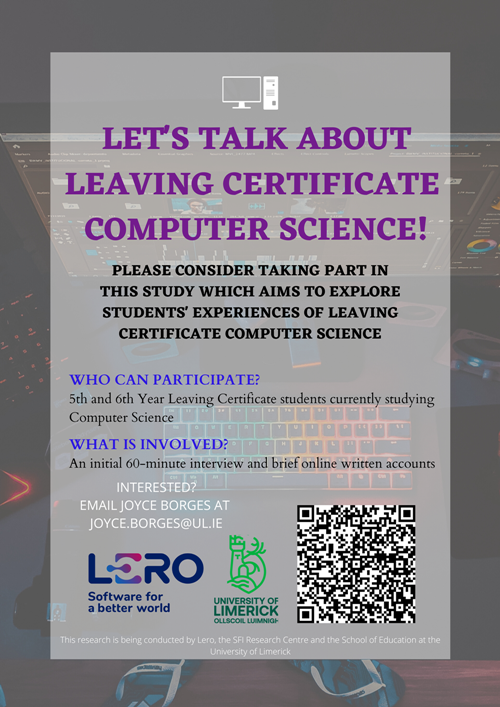 There is no risk to your students when participating in this study. All information gathered will be anonymous and handled in complete confidence. The data will be used to formulate publications and academic papers by the research team. No individual participant or their data will be identified. When the study is finished, the audio recordings will be deleted, and all other data will be kept on the principal investigator's password-protected computer for 7 years. After this time, the data will be destroyed.
Students' participation is voluntary, and they can choose to not take part or withdraw at any time without giving any reason. Parents/guardians and students will be requested to complete a consent form before participation.
If you have further questions regarding this research, please feel free to get in touch with me using the email address listed below.
If you have concerns about this study and wish to contact someone independent, you may contact: The Chair, Faculty of Science & Engineering Research Ethics Committee, University of Limerick, Limerick. Tel: 061 237719
Yours sincerely,
Joyce Borges
Research Assistant
Lero – The Irish Software Research Centre
University of Limerick, Ireland
Email: J[email protected]