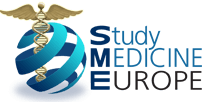 Getting Into Medical School: No Longer a Challenge – Getting into medical school in the UK is easier said than done. According to recent statistics, the number of applicants is increasing, as more and more people wish to follow this academic path every year. The struggle to enter is hard, leaving out students with exceptional grades, who then, disheartened and often frustrated, turn to other fields of study, such as biomedical sciences and pharmacy, leaving their dreams and goals behind.
What is more, the exorbitant tuition fees for the particular universities in conjunction with the high cost of living can be a major deterrent for aspiring doctors, rendering medical studies an expensive and often unobtainable investment for these young people and their families.
And this is where we come in. Study Medicine Europe is the UK marketing representative affiliated with a number of Medical Universities in Bulgaria and Romania and the leader in medical student recruitment in Europe, providing world-class premium services with offices in the UK, Germany, Greece, Cyprus, and continuously growing. We cooperate with a select number of accredited and reputable European Universities located in Romania and Bulgaria precisely for this reason: they offer the best medical education globally combined with affordable tuition fees due to these countries' low living cost. Better yet, based on its decade-long experience in this area, Study Medicine Europe offers premium services, but not at a premium, and can help you secure a position in one of these universities.
When choosing where to study medicine, dentistry or veterinary in Europe, in English-taught programmes, we know it is vital for you to study at the most reputable universities. All Universities that we officially represent are accredited institutions, recognized internationally and are high ranking, listed in all known directories of internationally renowned medical schools (WHO, IMED, etc.). Thus, after graduating and acquiring a specialization, medical practitioners need not take exams to seek work in any EU country, India and the majority of countries worldwide. To date, thousands of doctors, dentists and vets who have graduated from Bulgaria or Romania practice in numerous countries worldwide.
What is more, a graduate of a UK Medical University would need to complete two additional years of internship, or Foundation Years 1 and 2 as they are known, as medical courses in the UK are usually 5-year programmes. After having graduated from the 6-year course in our partner universities, you will skip FY1 and go directly into FY2, which means you can start working right from day 1.
With Study Medicine Europe, studying Medicine, Veterinary or Dentistry has never been easier. We can help you guarantee a place in the university of your choice, considering your needs and budget. In the past year, over 1,000 students were recruited to study in Bulgaria and Romania through SME. Now, you can be one of them. The application process for 2016 entries has already begun. So, do not miss this opportunity. Take your first steps towards a brilliant academic future and apply today. You can be one of the students who, in a few months from now, will be holding the long awaited letter saying "Congratulations. You have been accepted into Medical School".
Click here for further information …