Exit Entry Guidance Counsellor HUB
Discover the ultimate teaching resource for Guidance Departments in Post Primary schools. Connect with your students via the Exit Entry Guidance Counsellor HUB and support them on their third level journey. This resource has been informed by Guidance Counsellors and developed by Exit Entry, to best support teachers and make life simpler for Guidance Counsellors. Purchasing a GC HUB account provides access to;
A unique Exit Entry Guidance Counsellor dashboard
One platform to invite and manage all of your students from 1st - 6th year
View events / talks from companies and colleges collaborating with Exit Entry
Explore student lists by year groups or manage specific student groupings such as 'STEM', 'Portfolio' or 'LCVP' etc.
Discover each students Exit Entry Skills and Interests assessment data
View students potential occupations list
Access to Exit Entry 'Work X' content from companies and organisations such as IBM, Eir, Intel, HERSPORT, Formula Female, Jill & Gill and many more!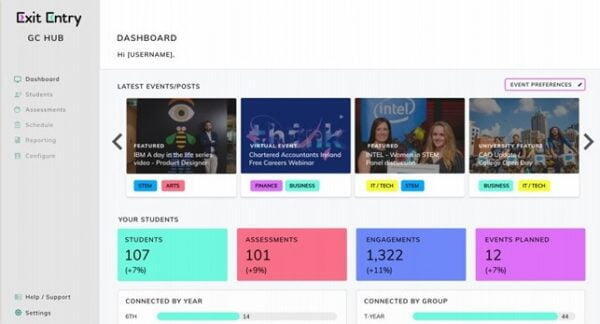 For more information on the Exit Entry Guidance Counsellor HUB contact Sinead at [email protected] to schedule a zoom call and GC HUB tutorial. Exit Entry is committed to helping students discover their next opportunity. The Exit Entry app is free to students nationwide. Students can complete a free skills and interests assessment and explore content from third level institutions that are collaborating with Exit Entry; UCC, DCU, Colaiste Dhulaigh, Drogheda Institute of Further Education, WIT, TUD and Dundalk Institute of Technology.