Every Scientist Can Leave a Positive Stamp on This World!
Dr Leanna Morgan
Dundalk Institute of Technology (DkIT) as part of its celebration of all things Science and the pending opening of their new State of the art 1,300 sqm Science Building this September, are delighted to bring you a collection of 'Meet the Scientist' profiles with some of the Institute's leading Science academics.
Dr Leanna Morgan is an Assistant Lecturer in Biochemistry in DkIT who first stepped through the doors of the Institute in 2013 after completing her Leaving Certificate. Leanna loved her time as a student in DkIT so much that she has stayed in the Institute and has progressed from her degree to her PhD to now her dream job which is lecturing Science students.
Dr Morgan's passion for all things Science was ignited initially in secondary school, she said "Science quickly emerged as my favourite subject. It was the class I looked forward to the most, and when exam season arrived, it was always the first subject I was motivated to study for. Although, the decision of which course to pursue at third level is challenging, I was absolutely certain about my desire to study science'. Leanna said of her choice to study in DkIT "When I visited the DkIT campus, I was drawn to the science course, Applied Bioscience as it had a strong focus on the fundamental science disciplines of biology, chemistry and physics. This was particularly significant to me as I had only covered biology in my leaving certificate, and I wanted to ensure I attained a comprehensive understanding of all scientific subjects".
After four successful undergraduate years in DkIT which saw Dr Morgan complete her level 7 in Applied Bioscience and then progress to a specialised level 8 honours degree in Biopharmaceutical Science, she said 'I thoroughly enjoyed my educational journey in DkIT so much so that I have never left! It was my experience in DkIT that encouraged me to pursue a career in academia. Based on my enthusiasm and enjoyment for the fourth-year research project, my lecturers at DkIT motivated me to consider a PhD".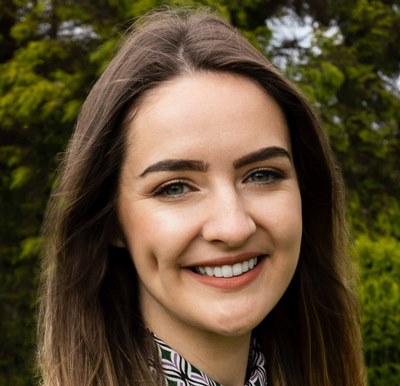 Leanna completed a four-year PhD in the Smooth Muscle Research Centre in DkIT. The focus of her PhD studies revolved around bronchial smooth muscle and its involvement in COPD. The research explored potential novel therapeutic therapies that induce bronchial smooth muscle relaxation. Whilst completing her PhD Leanna felt a strong draw towards teaching science and knew it was a path she would like to take, she said "Throughout my PhD, I was proactive about gaining teaching experience by taking on the role of a demonstrator and then later fulfilling part-time teaching responsibilities. In the end, this experience paved the way for me to secure a lecturing position in DkIT upon the successful completion of my PhD".
Leanna is still involved in research in the Institute and is currently expanding on her PhD studies by investigating drugs that may downregulate genes associated with inflammation in COPD. She is also undertaking a Masters in Learning and Teaching in DkIT. Leanna said of her time teaching so far "What I truly appreciate about lecturing is the opportunity to share knowledge and motivate students, much like I was inspired. I enjoy lecturing in DkIT as it has the acute advantage of small class sizes to ensure all students receive the utmost support to achieve their full potential, something I am proud to be involved in".
Dr Morgan is one of the many teaching staff in DkIT that will be utilising the fantastic new Science building from this September, and she said, "I am extremely excited about the new Science building, it is going to be an amazing enhancement of our current facilities. The building will allow for an expansion of our programs, we can now offer opportunities to a greater cohort of students. The new extension and new equipment will also foster innovation and research within DkIT, giving students and staff greater capacity to participate in research activities".