eHealth Embark programme for digital health start-ups launched
The six-part programme, now in its second year, offers technical and business support to start-ups and companies driving healthcare innovation.
Dundalk / Dublin, Ireland. dConnect Digital Health Innovation Hub and the Connected Health and Wellbeing Cluster at Dundalk Institute of Technology announce the launch of eHealth Embark 2023.
The all-Island startup programme offers early-stage digital health startups access to business and technical support via the dConnect Digital Health Innovation Hub and the Connected Health & Wellbeing Cluster. dConnect and CHW Cluster are based in Dundalk Institute of Technology and offer business training, mentoring and consultancy to Digital Health startups as well as connectivity with the healthcare ecosystem.
The ten week programme will include hands-on guidance and support to help startups drive innovation in the healthcare industry. dConnect and the CHW Cluster will provide mentoring and specialist Masterclasses ranging from customer discovery and validation, through to assessing market opportunity, and mapping funding and growth steps. Participants will have access to clinical, regulatory, funding, and business expertise to support the development of innovative product roadmaps and pathways to market.
At the final showcase on May 25th 2023, participants will pitch their ideas to a panel of judges. A winner will be selected and awarded up to $100,000 in AWS credits, and access to free hotdesking at Dundalk IT. All eHealth Embark participants will receive $2,000 in AWS credits.
As part of the programme, Amazon Web Services (AWS) will provide participants with technical training and support to help them leverage the latest cloud technologies such as data analytics, artificial intelligence, machine learning, and more. This will include one-to-one sessions, and tailored
workshops on topics ranging from procurement to Amazon's culture of innovation, including their 'Working Backwards' approach.
Alumni from eHealth Embark 2022, overwhelming endorsed the programme saying that it accelerated their business development, introduced them to new customers and markets, and provided the technical support to develop products that meet healthcare procurement requirements.
Stephen Geoghegan, founder of Cymantic Medical who won the competition in 2022, said: "Winning this award means a lot to our whole team. Developing a new medical device and bringing it to market can take a long time and be a very tentative process, so receiving this kind of validation is a source of great motivation and encouragement for us, especially considering the expertise on the judging panel which included the HSE Digital Transformation unit, Atlantic Bridge Ventures, Health Innovation Hub Ireland, and AWS' International Healthcare lead. The AWS credits we've been awarded give us access to powerful cloud computing resources that can now accelerate the development of our technology, which, we believe, can have a major impact for cancer patients and healthcare providers. The tangible supports we've received, and will continue to receive, from AWS and the team at Dundalk IT will also undoubtedly go a long way in helping us to reach that goal."
Startups interested in applying for the programme should submit applications via www.ehealth-embark.ie. The deadline for applications is February 26th 2023. The programme will be delivered online and in person between March 20th and May 19th 2023 with in-person events hosted at AWS' offices in Dublin.
According to Carl Power, Director of the dConnect Digital Health Innovation Hub, "We look forward to supporting another cohort of digital health startups and building on the success of last year participants. We see this as a great opportunity to support early innovation targeting the healthcare sector and ensure that Ireland is at the forefront of this rapidly expanding sector. We are excited to collaborate once again with AWS, a global cloud computing provider that is well positioned in the global healthcare and life sciences industry both across Ireland and around the world."
Breanndán Casey is the manager of the Connected Health and Wellbeing Cluster at DkIT which encourages and facilitates increased collaboration between industry, academia, healthcare providers, and enterprise support agencies. He stated " This programme will specifically look at healthcare challenges, and is a great example of cluster members, including dConnect, working with industry to advance the sector. AWS' support will ensure hands-on input to developing robust and scalable technical solutions that clearly address identified healthcare needs. We invite applications from across the island of Ireland."
Aidan Browne, Head of Innovation & Business Development at DkIT is encouraging relevant companies to complete the online application or to contact Carl or Breanndán directly to discuss their business idea. "The CHW Cluster and dConnect have strong support from industry and healthcare. DkIT has a longstanding reputation as a leader in healthcare, digital health and regulated medical software, and we look forward to working with AWS and a strong cohort of participants."
For further information, please contact – Carl Power, Programme and Business Development Director, dConnect +353 85 747 9050, or Breanndán Casey, CHW Cluster Manager on +353 85 8817468 .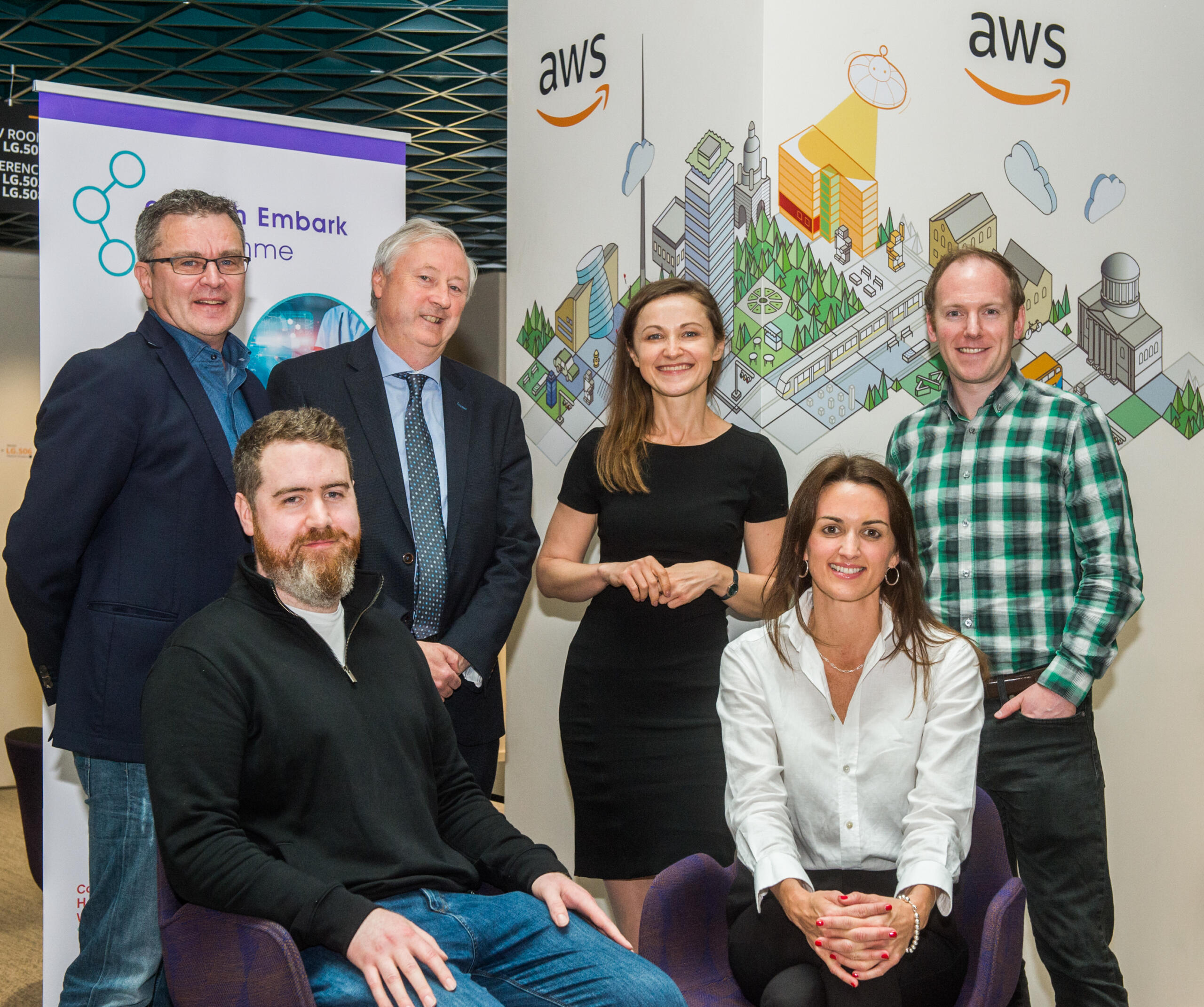 (Left to Right):
Back Row: 2022 Judges including Michael Twomey, (Health Innovation Hub Ireland), Martin Curley (CEO, HSE Digital Transformation Unit), Joanna Wardzinski (Head Tech Lead & Operations, International Healthcare AWS at Amazon Web Services ), Conor O'Sullivan (Atlantic Bridge)