DkIT – Supporting Entrepreneurial and Innovation Skills Across Europe
Dundalk Institute of Technology (DkIT) are delighted to report their contribution to the EU's HEInnovate tool. The tool - used by universities across Europe to assess their entrepreneurial and innovative capability - has just been updated with a unique Action Card Set offering helpful guidelines for Higher Education Institutes (HEI's) to enhance their entrepreneurial university status. The card set was developed by the team behind the EU-funded THEI2.0 project, a consortium of five European entrepreneurial universities. The project was led by the University of Aveiro (Portugal), and comprised DKIT (Ireland), Tecnocampus (Spain), Munich University of Applied Sciences (Germany) and Lappeenranta-Lahti University (Finland).
Prof Colette Henry was the THEI2.0 project manager for DKIT and was supported by Annmarie McHugh. Colette is Head of Department of Business Studies and the 2017 Sten K Johnson European Entrepreneurship Education Laureate. Annmarie is a Business Studies Lecturer in DkIT and a member of the EU HEInnovate Expert Facilitators Group.
Prof Colette Henry said "We were thrilled to be part of the latest addition to the HEInnovate toolkit. At DkIT we have an established expertise in entrepreneurship and innovation, and an award-winning history of producing graduates with an entrepreneurial and innovative mindset. The THEI2.0 project allowed us to work closely with our European peers and share our collective passion and knowledge to help improve the entrepreneurial environment of universities across Europe".
HEInnovate, is a self-reflection and assessment tool for Higher Education Institutions who wish to explore their entrepreneurial and innovative potential. It guides educational providers through a process of identification, prioritisation and action planning in eight key areas. So far more the 30,000 assessments have been undertaken by 1,700 HEIs. An initiative of the European Commission's DG Education and Culture in partnership with the OECD, HEInnovate is a free self-assessment tool for all types of higher education institution. It allows institutions to assess their organisation by reflecting on a series of statements related to their entrepreneurial activities, including leadership, staffing and links with business. Extensive training and support materials, including practical case studies, are available to support HEInnovate workshops within educational settings. The recently added Action Card Set offers further guidance and good practice example initiatives for university leaders tasked with managing their organisation's entrepreneurial journey.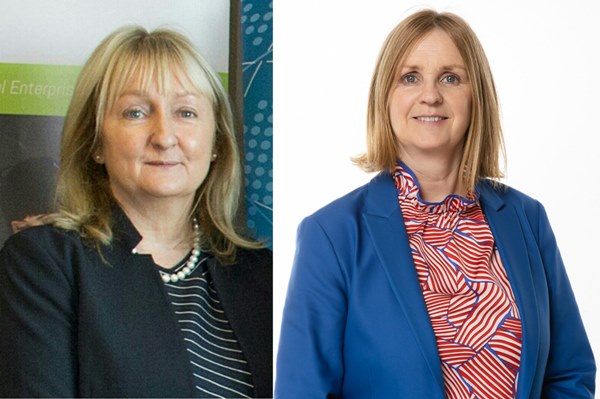 Since completing the Action Cards and THEI2.0 project, DkIT have secured funding for two further EU projects aimed at enhancing student entrepreneurship and HEIs' entrepreneurial ecosystems. TANDEM+ and SFF.DeepT+ are part of the Start For Future (SFF) European consortium which supports student-led entrepreneurial teams by offering them training, mentoring, industry experts and incubation facilities across 27 universities and HEIs throughout Europe. In addition to managing these projects for DkIT, Prof. Henry leads specific work packages relating to Gender, SDGs and Inclusivity. In collaboration with the University of Pisa, Colette will be responsible for evaluating the overall impact of the SFF project with a particular focus on Equality, Diversity and Inclusion (EDI).
Prof. Henry further commented: "By focusing on EDI, we aim is to ensure that every individual within our entrepreneurial ecosystem has the opportunity to engage in entrepreneurship and avail of the significant collective knowledge and expertise available through the SFF Consortium. We will soon be introducing a unique micro-credential qualification in Entrepreneurship and will pilot this with DkIT students participating in SFF this Autumn. The Autumn call for SFF participation – Phase 1 LEARN – has just been opened for applications and can be accessed at: https://scefreiraum.typeform.com/to/eml4jAof"
For more information on these projects, visit: