DkIT Lecturer Nominated for IMRO Radio Award
Dundalk Institute of Technology (DkIT) are proud to report that one of their esteemed lecturers Sarah McCann from the Department of Creative Arts, Media and Music has recently been nominated for an IMRO Radio Award.
The IMRO Radio Awards mark the very best in Irish radio broadcasting and recognise those who have made contributions over the year. Sarah's nomination is for a one-hour radio documentary she made which was broadcast on Midwest Radio last year. The documentary is called Frank Greally: Running Full Circle.
Sarah, who hails from Dundalk is no stranger to nominations for the IMRO Radio Awards, she said, "These Radio Awards are like the Irish radio Oscars so it's great to be nominated for the second time as I was also nominated back in 2021 for another one-hour radio documentary, that time for LMFM radio - it was called '740 and Counting: Collette O'Hagan, Marathon Woman'.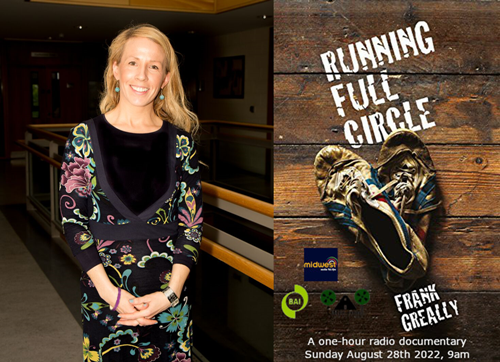 Sarah's documentary about Frank Greally is an inspirational story. Frank now 71 years old, has held the 10,000 metre National Junior Record in Athletics for nearly 52 years, competed internationally for Ireland, was the founder of the Irish Runner magazine and its editor for 37 years, is the Athletics Ireland Ambassador for The Daily Mile. Frank is also the founder of the Remembrance Run that takes place in Dublin every November, has written two books and is also a songwriter. However, behind all these accolades is the story of a struggle against depression and alcoholism and how running and now walking have been his redemption. In this one-hour radio documentary, we find out more about the man behind these many achievements and why he feels the need to show his gratitude for a life of more ups than downs.
The IMRO Radio Awards will be held on 9th November in Kilkenny.