Summer 2020
Summer 2020
Welcome to the latest edition of our newsletter. I hope it finds you safe and well.
Covid-19 has changed the way we work and it will continue to pose challenges to businesses, the economy and society for some time ahead.
The Government is addressing these issues with a wide array of supports and services for individuals and enterprises. The July stimulus package just announced indicates that all viable businesses will be supported and that Irish people will be given the opportunity to develop skills to meet the challenges of returning to a changed workplace.
The EGFSN will play a part in this recovery journey. It will look at skills development through a new lens and identify the skills required for the economy to recover and to rebuild the capacity of Ireland's workforce. Digital transformation is speeding up and Ireland's ambition for a low carbon economy hasn't changed. In the future, skills analysis will have to reflect the
realities of meeting new challenges in a highly uncertain and constantly changing world.
In this edition of the bulletin, you will find updates on the work of the Expert Group and useful information on the supports available through colleagues in our partner organisations. The Regional Skills Fora has published its annual report for 2019. Before the pandemic hit, more and more regional businesses had engaged with their Forum to learn more about the training provision available to help their companies grow and their employees to upskill. Lifelong learning has become even more important for individuals in these uncertain times. There is a wide array of supports and training initiatives being offered to assist businesses and individuals and the
Department of Business, Enterprise and Innovation has a Skills for Enterprise section which you might find useful.
If you enjoy this bulletin, please take a look at our website www.egfsn.ie for some insight into EGFSN research down through the years.
For EGFSN news as it happens, follow
us #EGFSN https://www.linkedin.com/company/egfsn/?viewAsMember=true and @EGFSN
Tony Donohoe
Chair of EGFSN
July 2020
​

Design Research

Together for Design builds on the earlier work identified in the 2017 report Winning by Design. It focuses on the three design disciplines identified as
important for Ireland; digital, product and strategic design. Together for Design looks at the future demand for these design skills over the years 2020-2025

Winning by Design demonstrated that design has a crucial role to play in the broader concept of innovation and how it is a key component of Ireland's innovation ecosystem. The report emphasised that design thinking can be used for problem solving and can transform the strategies of major organisations by combining processes, skills, cognitive steps and attitudes.

Traditionally, design roles have been associated with problem solving and creativity but
these are not the only skills required in the design sector today.

Together for Design finds that by 2025 occupations in digital, product and strategic design could see a growth between 21,000 to 33,000, accounting for 2.8% of all jobs in Ireland. Programmers and software professionals are anticipated to account for the majority of additional jobs. In contrast to this demand, around 1,300 students graduate annually with relevant skills from Higher and Further Education in Ireland.

Amongst the recommendations contained in the report is a call for a collective voice for design in Ireland. The establishment of the National Design
Centre will bring a unified voice and will develop the pipeline of design talent.

In addition, the report recommends that educational institutions should continue to be encouraged to ensure that flexible provision methods, such as online courses, are available for academic educators and design practitioners to upskill or reskill in design discipline.

Take a look at the video that accompanied the launch of Together for Design below.

​
​

EGFSN Work Plan 2020 Update

The 2019 EGFSN Annual Activity Statement has been published. It describes the research the Expert Group carried out in 2019 and looks ahead to 2020.

Covid-19 is referenced and the Chairman notes that the EGFSN will need to look afresh at the skills needs of the workplace to ensure that workers and businesses are equipped to confront any future global threat like the current
pandemic.

The Chair states 'the 2020/2021 work programme includes significant research on the skills required to deliver the ambitious national targets that have been set for housing, infrastructural development and sustainability within the built environment; the low carbon skills that will be required to deliver the Climate Action Plan 2019; and the management skills of SMEs in Ireland with a view to developing the management practices associated with firm productivity, growth, employment and survival'.

The study into the skills needs for sustainability in the built environment sector that the Chair mentions is well advanced
and will be published later in 2020 following presentation to the National Skills Council.

Likewise, the research into SME management development has been completed and will be published following approval from the National Skills Council. For more information on these publications, keep an eye on the recent publications section of the EGFSN website.

​
Skills to Compete
Skills to Compete, a new initiative announced as part of the Government's July Stimulus package offers upskilling and reskilling opportunities to employees that have been affected by Covid-19. SOLAS and the ETBs have a track record in designing and delivering upskilling programmes that offer pathways back to work for those hit by the impact of recession. By combining and ramping up three strands of FET provision – transversal skills development to help employability; building the digital capabilities now required for almost every job; and specific Level 4-6 courses targeting growth sectors and
occupations – and linking this to tailored advice and support, Skills to Compete can deliver a powerful labour market activation response.
Skills to Compete aims to equip employees with the skills to move on from unemployment and to take advantage of new job opportunities that will arise post Covid-19.
EGFSN's Together for Design Report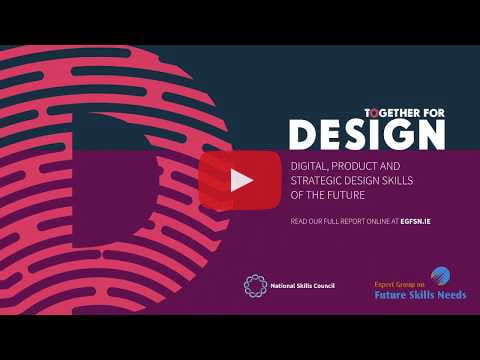 The nine regional skills fora situated in the four provinces of Ireland have been instrumental in connecting regional businesses with the educational and training infrastructure in Ireland since they were established in 2016. The Fora provide:
– a single contact point in each region to help employers connect with the range of services and supports available across the education and training system.
– more robust labour market information and analysis of employer needs to inform programme development.
– greater collaboration and utilisation of resources across the education and training system and enhancement of
progression routes for learners.
–a structure for employers to become more involved in promoting employment roles and opportunities for career progression in their sectors.
'Further education and training is for everyone. It provides an opportunity for everyone to engage in learning whilst delivering on the critical skills needs of the economy and the future world of work', commented the Minister for Further and Higher Education, Research, Innovation and Science Simon Harris TD at the launch of the Further Education Strategy earlier this month.
Skillnet Ireland's enterprise-led ReBound initiative, through its programmes of free specialist webinar training and one-to-one mentoring support, will guide SME Owners and Managers in implementing the 'Return to Work Safely' Protocol and support businesses to navigate a secure recovery. Read more above.