Cybercamp 2023 - University of Limerick
We are pleased to announce that we will be running a series of Cybercamps again this summer here on-campus, with the first camp commencing on Monday the 26th June.
The aim of Cybercamp 2023 is to give second-level students (ages 13 and up) the opportunity to learn, use and experience new technology in a fun and engaging way. During the camp, students will work in teams to build their own games, design a simple website, construct and program robots and build a circuit allowing them to monitor their heart beat.
By introducing students to a broad range of introductory software and electronic subjects in an engaging way at this stage of their education, they will leave Cybercamp better informed about which areas they may wish to study in the future. Suitable for Girls and boys.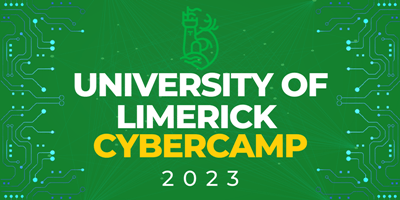 When?
Camp 1: Monday 26th June to Wednesday 28th June
Camp 2: Wednesday 28th June to Friday 30th June
Camp3: Monday 3rd July to Wednesday 5th July
Each day is scheduled from 09:30 - 16:00.
The camp is non-residential.
Location?
Computer Science Building, University of Limerick, Limerick, Ireland.
The camp is FREE to students thanks to funding from the Higher Education Authority.
For more details, please visit our website http://pslc.ul.ie/cybercamp/ where you can contact us and register to attend UL Cybercamp 2023.
To allow as many students to enjoy UL Cybercamp, we ask that each student be registered for one camp only.