Computer Science Week is coming
Exciting news! Only four weeks to go until Ireland's first ever Computer Science Week: October 8th-15th. The week, which coincides with EU code week, will shine a light on computer science as a discipline to the Irish public by raising awareness and promoting a positive attitude towards computer science. Computer Science Week will be of particular interest to schools that are thinking of introducing computer science as part of their curriculum in the near term future.
The inaugural Computer Science Week programme includes live workshops for schools to be delivered by subject experts, and webinars aimed at teachers, parents, guidance counsellors, principals, students and anyone interested in finding out more about the subject.
As part of the week there will be a National Conference which will take place in the Athlone Springs Hotel on Thursday Oct. 13th. One of the main aims of the conference is to celebrate the fantastic work being done by computer science teachers and students, as well as share some of the many wonderful examples of industry-education collaborations that are going on around the country. The conference will feature computer science project exhibits from primary and post-primary schools, student workshops, and industry stands from companies such as Amazon, Cisco, Google, IBM, Microsoft plus lots more.
The conference keynote address will be delivered by Lorraine Underwood. Lorraine is a Senior Teaching Associate and PhD Student at Lancaster University in the UK, researching Physical Computing in Computer Science Education. Her passion is making physical computing creations to showcase how creative Computer Science can be. Lorraine has written a book for children interested in building and coding physical computing devices like the raspberry pi and the BBC micro:bit, fittingly titled: How to Save the World with Code.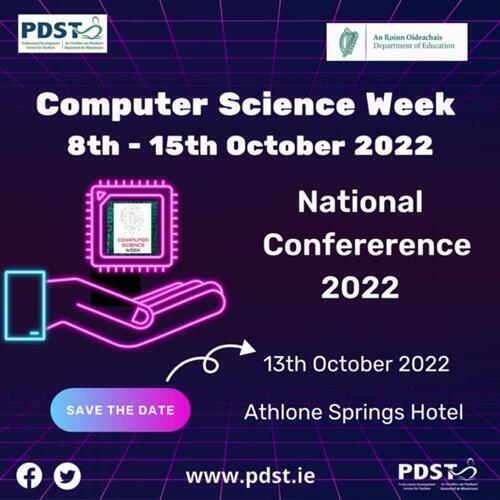 The full programme of events for Computer Science Week including registration details for the national conference will be promoted using the @PDSTcs twitter account with the #csweek hashtag in the coming weeks. In the meantime, please save the date - 13th October - and get your seatbelts fastened! How can you engage with Computer Science Week? This is a super exciting and significant initiative, and one we hope will become an annual event to give all stakeholders of Computer Science Education in Ireland the recognition they deserve.
Computer Science Week Save the Date flyer attached.